I turned 49 today.  Forty-Nine.
Dang, that's a lot of years.
I played ultimate this morning.  The high school team happened to have practice so I scrimmaged with them.  I'm not young and fast anymore, by any stretch, but I'm still playing at 49.  It requires wrapping ankles and yoga and caffeine and psyching up, but I'm still playing sports I love.  Today I threw a score to Annalise, who at 4'9″ rose up and pulled my throw down in a crowd.  That's what my father eyes saw, anyway.  She is mighty.
I came home after ultimate and took a nap.  I really like naps.  I don't know if I would if I slept like a normal person, but sleeping like an insomniac, a nap becomes a highlight.  So young enough to play ultimate, old enough to need a nap afterward.
Post-nap, I took Corin to play baseball.  Usually I pitch to him, hit grounders and pop-ups for him to field, and we play catch.  Today, though, we brought his friend Israel.
I had mixed feelings.  I wanted some good father-son time for my birthday.  But we've also hoped Corin would make friends in our barrio.  Israel is Corin's closest friend here.  He's older and a lot taller but he's a great kid and they love hanging out.
So we all played.  We  spent most of our time playing a rotation game with each guy taking a turn batting while the other two played the field.  Corin had us keep score of total bases we got from our hits.  I hit two home runs and a triple!
Corin really enjoys that I can hit the ball far (farther than they can, anyway).  If it were up to me, I would just pitch to them and let them take turns.  But I think there's something healthy about admiring what your dad can do that you can't, yet…but someday will.  Plus, I'm keeping my commitment to myself that I will not be an old dad but will keep playing sports with my kids as long as they are kids.  
"¡Pero si era tuya!"  But it was to you!
Corin and Israel treat each other like real grade school friends–rudely, with lots of hassling and "giving each other the business," as my school friends and I would say.  I hit them pop-ups, and anytime, every time one missed the other would say,"¡Pero si era tuya!"  They fought over the better glove (we have Corin's new one and mine from little league).  They chased each other around.
As I watched all this, bit my tongue, and kept hitting them pop-ups (most of  which they missed), it occurred to me that Corin gets more real practice when it's the two of us, but he might have more fun with Israel along.  Israel seemed to enjoy it, though he's not going to play in the Majors nor in Nicaraguan Professional Baseball.  Because of his home situation, no one has taught him anything about how to catch a ball.  We started today.
One other thing I have to mention about our baseball time: as I'm chasing after balls they hit, racing them to the bases to try to tag them, feeling young and spry…I threw the ball up in the air to hit a fly ball to them, whiffed, and felt a shooting pain just below my left hip.  What?  I had to walk it off and was nervous to swing hard again after that.  Young enough to play baseball, old enough to hurt myself doing it.  Sigh.  
When we got home again, we had to get cleaned up quickly to go out to dinner.  So we hurried…and then sat in Managua traffic for an hour.  Managua is not a huge city.  But I'm wondering lately if traffic is getting worse or if we're just getting lucky.  More cars could mean a growing middle class here, which would be great.  Our twenty-minute drive took an hour.  
We finally arrived at The Malecon, in the rain (once again).  Of the improvements I've seen in Nicaragua, this is the most dramatic. The Malecon is the pier and lake front area on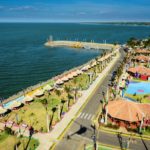 Lake Managua, which long ago was a beautiful and a night life spot, then was largely destroyed in the '72 earthquake.  When we moved here, we were warned to stay away because it had become beyond sketchy, a place to sell drugs and settle disputes.  But now the Malecon has been renovated and made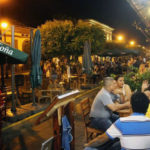 beautiful again.  There are many different types of restaurants, playgrounds, even a large water park with sizable water slides.  We went to an Italian restaurant.  They had the Yankees' playoff game on and the Yankees were kind enough to win on my birthday!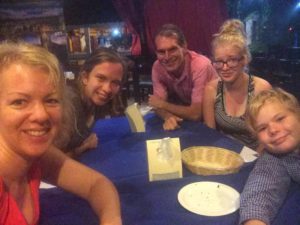 For as long as Kim's known me, lasagna has been my favorite meal.  I ordered seafood. It was delicious.  On the way home, I told her how good it felt not to be rolled away after dinner.*  
Finally, my family gave me presents.  Annalise gave me chocolate and salty lemon peanuts (mani con limon–an addiction I've developed here).  Kim gave me a new pair of shorts and a shirt, a bottle of vino, and Corin teamed up with her to give me a coupon for a new baseball glove!
 I lost the receipt, but I suspect my dad bought me my glove when I was seven or eight, for my final year of teeball.  1976?  Last week it lost one of the leather ties that holds the fingers together and I repaired it with duct tape and a bread tie.  That may be why Corin and Israel fight over using the other glove.  I would call this a timely gift.  
I intended to conclude this with some profound insights about my near half-century of life.  I also intended to post this on my birthday night, but I fell asleep…and again last night.  Perhaps that's my summary:  still playing, albeit held together with tape and bread ties and more likely to doze off…
*Picture Violet Beauregarde in the original Willy Wonka, being rolled away by the Oompa-Loompas.