If you're at all like me, you're holding your breath, waiting for all of this to be "over." I cannot forget the description from a conservative friend who told me he believes people on his side of the aisle would "crawl on their bellies over broken glass" to get to vote for their candidate. I feel the anxiety increasing in my body. Every time I see a poll, or a reference to a poll, or hear a conversation about a reference to a poll, the anxiety notches up. It's like there's a vice squeezing my chest, tightening a quarter turn at a time.
So it's time for a breather.
local community and my book
There are good people doing good things. People I have just met in my community work hard, work to exhaustion, to serve those considered least among us. I met such a person just tonight. We had a presentation and discussion about my book–yes, it was the first stop on my international book tour, possibly the last, which, granted, would make it less international in nature–and the discussion far exceeded my hopes. A funky community of people who love Jesus, seek justice, and want to live by grace shared with one another tonight. Many of us had never met before. We were all masked and practicing social distancing and I had forgotten how great it is to meet people who are sincerely trying to love their neighbors.
"But how do you love your enemy, when you've made up your mind to do it?" one young guy asked. Dang, is that a great question!
I don't know if I'm going to make it as a writer–I'm sure trying–but Friday night was the clearest I've grasped how pastoring and writing can overlap, or maybe how I can pastor as a writer. Also exciting, I made connections with several people here who advocate for and support our local immigrant population. I need to join in this work. One woman who pours herself into this, a long-time friend, told me "We need to have twenty more of these discussions. I'm going to get the people who need to be here."
Good reports on the book: one guy told me he's going to finish it and then give it to his daughter, "who will devour it." Another asked for copies for both a good friend and for his pastor. Really hope I don't get him kicked out of church.
This is one of my favorite responses:
Man you have really got me thinking. I think I'm at about chapter 8 or so. Even someone like me who has been a churchgoer for 76 years has room to learn and grow.
I need to keep expanding the circle I'm reaching. But I'm tremendously encouraged by the responses I've gotten from those who have read it or are reading it. My goal in writing it was to encourage and help and I'm hearing it's doing that. Good job, little book! Getting people to think is a bonus.
hiking and breathing
Today, we took a hike up Ingall's Creek, which has become a family favorite. We drank in beauty and I brought home enormous leaves that speak of fall. With each step I felt like I was expelling anxiety and breathing in peace. We had some hilarious moments when trying–and failing–to take a selfie of the three of us and we discovered it took two of us to work the camera.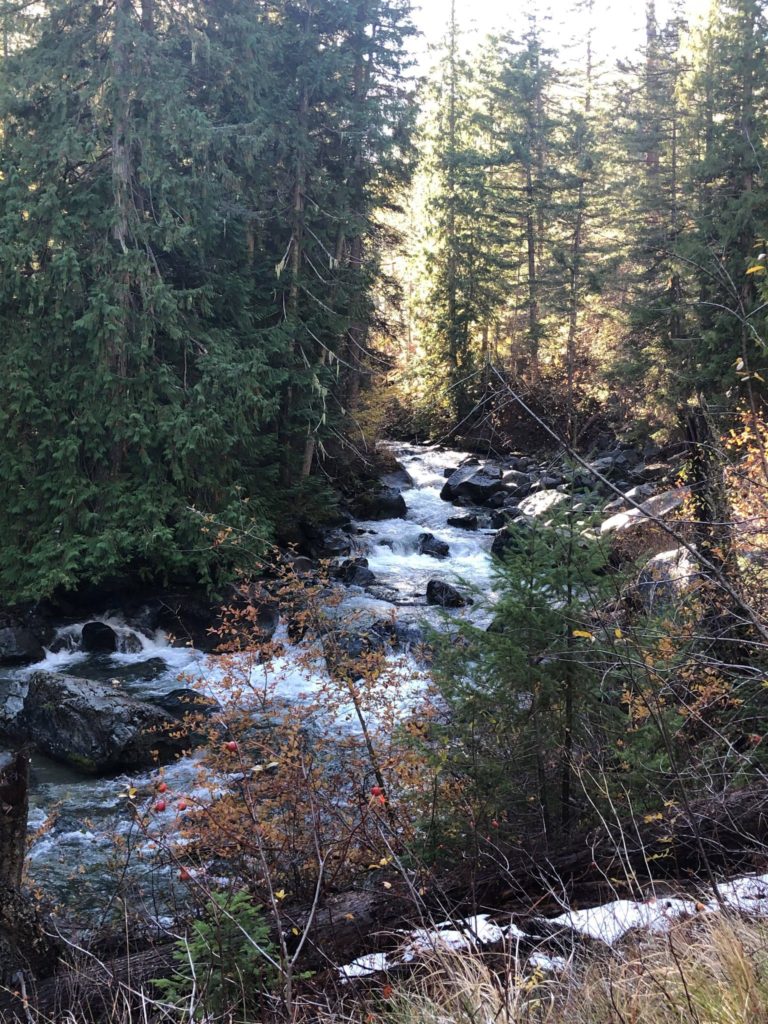 Am I peaceful now? I'm more peaceful.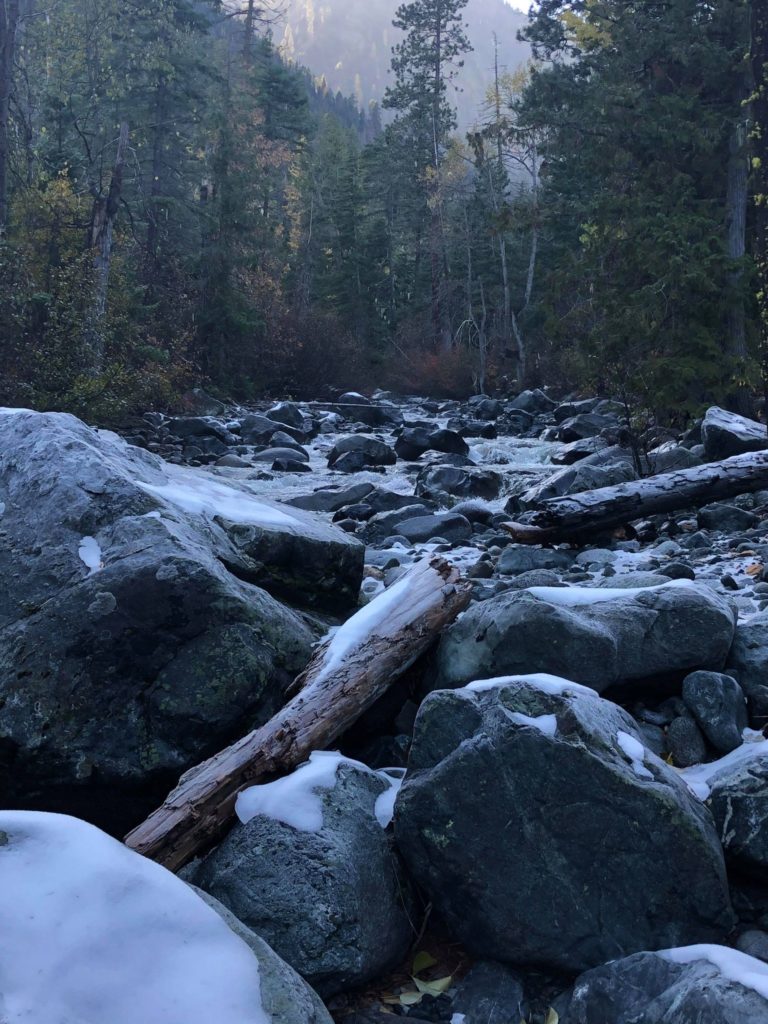 The days are about to become very short and cold. I will hike in snow and rejoice that I still can exercise when temperatures drop below freezing, but I am a wimp and winter is my fourth-favorite season. Nonetheless, today, glimpsing a touch of snow for the first time this year, I remembered how beautiful these mountains I love will be when they're covered. Especially for those of us who battle harder (let the reader understand) when we have less daylight, focusing on the small joys, the simple pleasures, and the goodness that a fourth-favorite season brings becomes a lifesaving choice. Today's hike was a moment of grace and sanity in this season.
disc golf and tin cup
Have you seen the movie Tin Cup? I'm guessing no. Kevin Costner plays a semi-retired, more than semi-washed-up professional golfer. He can hit a golf ball a mile. I clearly remember a friend railing on this movie when it came out because he insisted that long drives are just one small part of golf and this movie makes driving out to be the whole thing.
My point is, I've realized I'm a disc golfer like that. No, not like an actor who is really good at playing one role, regardless of what movie he happens to be in. I like long drives. I'm a not-great putter. I'd say I'm decent at approaches but truthfully, the courses I get to play here don't have enough long holes to test that. But the other day I was out for a round and threw my tee shot, which I instantly knew I had released too low to have a chance at an ace. And I said "Dang!" before the disc was ten feet out of my hand. And yes, it was too low to have a chance to go into the basket…but it had perfect trajectory and break and got a little loving skip at the end and ended…leaning against the basket pole.
That's not "Dang!" Or if it is "Dang," it's in a very different, grateful tone. So then I just had to laugh at myself. I think I can attribute this attitude to the fact that I play almost exclusively by myself. I run after nearly every throw of any distance. I run to the next tee. I'm basically out for a run that includes stooping to pick up discs. And sometimes exclamations in response to shots. It's especially amusing because trying to ace a hole is risky–if the disc is at basket height to go in but misses, even barely, that means the disc will fly past, sometimes a long way. Depending on the layout, flying past can be bad, anything from out of bounds to, on our hole 9, in the street (which, yes, is also out of bounds). Were I competing against someone, I'm sure I'd be more invested in a near-perfect drive for a drop-in, can't-miss birdie.
halloween party
We had one trick or treater come to our door. Literally, exactly, one. We had a party here instead of going out. Afterward, Kim declared this not only a success but a better idea and questioned why we would ever go out in the cold when we can stay out and have a party? Kim does not like the cold.
We had a blast. We dressed up (I lamest of all, because I had my attention elsewhere, silly me), we created monster-themed foods, we used dry ice to make the punch boil and steam, and we used our industrial strength wagon to give my four-year-old nephew "hayrides," which really was filling the wagon with leaves and pulling him around the cul-de-sac. He loved it.
Aria dressed as a vampire and I'm still a little unsettled when I look at her. She really got it right. She did not scare either my four-year-old nephew nor my six-month-old nephew, because they both know how much she adores them.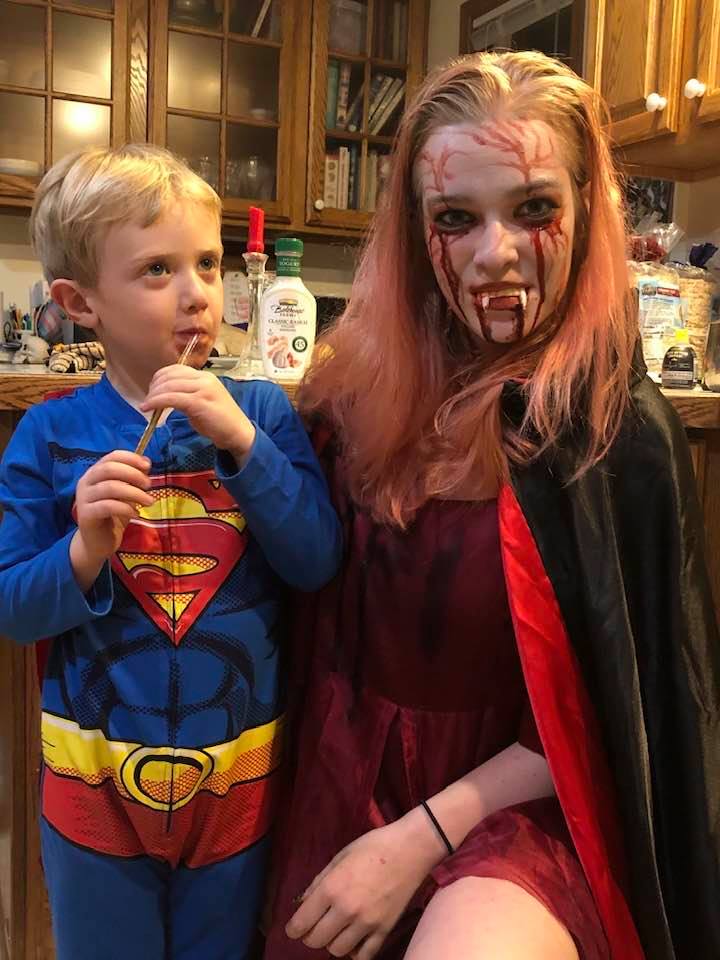 But the coolest part of the whole evening, for me, was when four-year-old Ein was told they had to go but he could first have someone read to him–and he chose me. Those are the small graces that keep me alive. I should say, these are the small graces that make me alive.
Take the blessings where you find them. Let the encouraging moments be more than a moment. Breathe in the cold air and let it fill your lungs.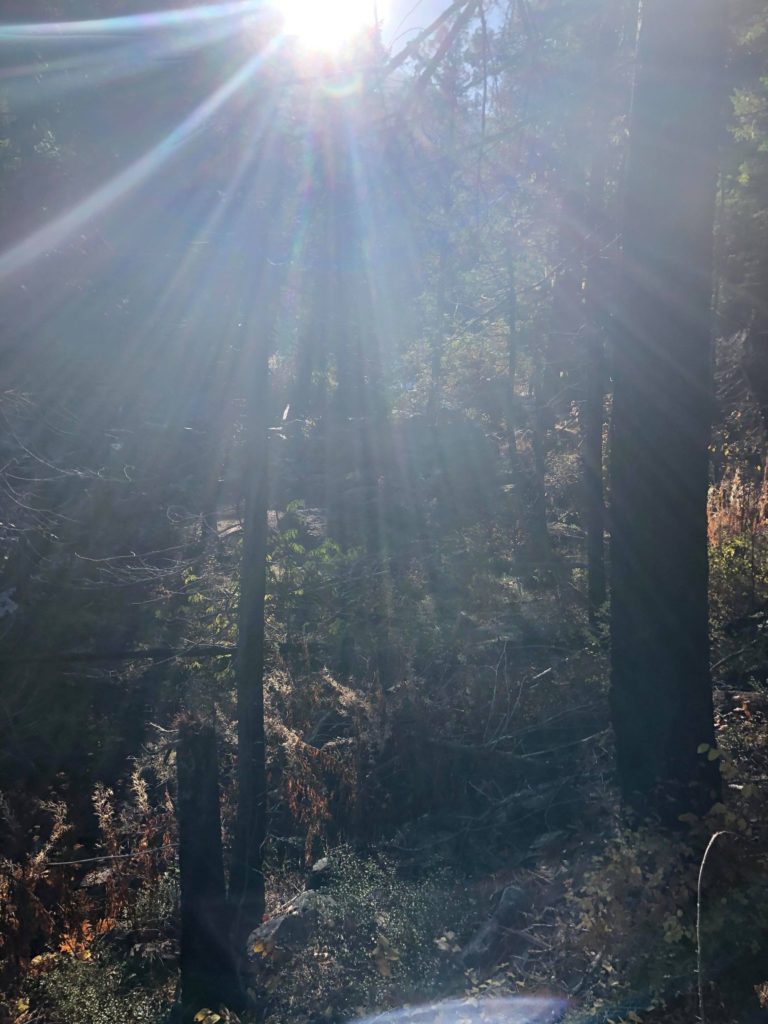 This, too, is grace.