Grace is greater than…what?  It kind of begs the question, doesn't it?
Grace is always greater.  Meaning, however big you think grace is, as much as you've started to believe that maybe you are loved in spite of what an incredible F*&@-Up you are, to whatever degree you've grasped that the God of the Universe delights in you…
It's greater than that.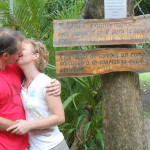 I'm living in Nicaragua with my wife and four kids, except one of them left for college, except there are really five but our first son died…  Do I tell people we had five and then explain?  Or do I say "four*" with a mental asterisk every time?  Even the simplest "about" statements don't quite tell the truth.
Acknowledging that, I preach and write and teach.  I love to play ultimate and read and listen to music and sing.  Chocolate, books, mountains, discs, my wife, my kids, my friends.  I love them.  Not in that order.
I don't think we have that much figured out, probably not nearly as much as we pretend.  I think we help others when we are honest about our weaknesses and failures.  Love requires this humility.  God gives me ample opportunities for humility.
I believe in God's grace.
NOTE:  This is a personal blog and any content, including my views, does not necessarily reflect the positions of Servant Partners, my organization.  In fact, I probably embarrass them a good bit of the time.