I see  trees of green, red roses too

I see them bloom, for me and you

and I think to myself, "What a wonderful world."
Today, I found out that my good friend Pastor Bismarck's mom died. I want to be there for the vela.  I want to mourn with my brother and his family.  I want to give him a hug.  But I'm here.
Today, I learned that Will, one of my basketball and ultimate players and the only person who has ever given me bacon socks, is not returning to Nicaragua for his senior year. When I was praying about staying for another year–even though Kim had committed to returning–I had three senior guys I envisioned working closely with this coming year, Barry, Davey, and Will.  They will be in Panama, Costa Rica, and the United States, respectively.
Today, I heard from a former student, who is dear to my heart, who is having a hellish time.  I tell my students that when they hit the hard times, I expect to hear from them.  I am a good foul-weather friend.
I see skies of blue and clouds of white

The bright blessed day, the dark sacred night
And I think to myself, "What a wonderful world."
Annalise, our daughter, our
Miracle Girl
,
is
returning to Nicaragua to work with the SOAAR program (Students of All Abilities Recognized) at Nicaragua Christian Academy.  Her words:
"SOAAR helped me get through school, academically. It gave me the extra help that I needed to be able to achieve my absolute best in my classes. I'm going back, to be able to give students that know me a perspective of someone who personally knows what they're going through, and to give back to the program that helped me out so much in school.  

Even though Nicaragua is going through a rough time, I feel like that is where I'm supposed to be, and God has made it clearer to me over the past few weeks. I feel like I can help people that are going through a rough time there, and be able to give some stability to people that really need it.

"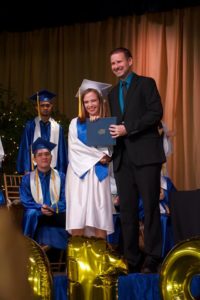 Yeah, that scares us, and yeah, I wish with quite a bit of my heart that I were going back, and yeah, I'm trusting God for both of us.  Before you ask, "How can you let her do that?" or if you already asked it in your head, 1)She's 18 and we're committed to her making the decision, 2)We've talked with the NCA director, the SOARR director, and the family with whom she'll be living, all close friends of ours, all gringos who are going back, 3)We believe this is how God is leading Annalise and we're not going to veto that.  I don't want to teach our kids about faith and then tell them not to live it.
The colors of the rainbow so pretty in the sky

Are also on the faces of people going by

I see friends shaking hands saying how do you do
They're really saying I love you
Meanwhile, I'm living in
Disneyland
.  I love it here, but it's bizarre.  I love the people here, but it's hard for them to understand what I've seen or why I'm not just relieved to be here.  I read bad news about Nicaragua every day and I pray and at some point soon I will start trying to raise support for a ministry there because I have to do more than I am now.
Finally, I'm scared about what's going on in this country.  Do people hate one another more than they ever have before or is it just louder?  How do I respond faithfully to what I see in love, as a Jesus follower, not returning hate for hate, but with courage and boldness and grace?  I'm seeking community because I know I can't do this on my own.
I hear babies crying, I watch them grow

They'll learn much more than I'll never know

And I think to myself what a wonderful world
Yes I think to myself what a wonderful world