Nicaragua Diary, Day 51
Last night, I was sitting in our living room when I felt something brush my right foot.  I thought it was a mosquito and looked down to see if I could swat it.  It wasn't a mosquito.  
It was, however, a tarantula.  
We've lived in Nicaragua for over six years now.  I haven't had that many tarantulas brush up against me.  I haven't found that many scorpions in my shoes or towel or sports bag.  But there have been some.  I wouldn't quite call it commonplace.  
My response last night was "Whoa." 
Insects are a way of life here.  They're such a constant that we take their presence for granted.  
I remember when we first moved here, probably my first week in the country, and our kitchen was covered with ants.  At least, it seemed to be seething with insects to me.  This was the tiny, red variety we call "psycho ants" or "spaz ants" because they dart back and forth randomly, looking like they've lost their miniscule minds.  When I say tiny, I mean just above microscopic.  I'm not exactly a clean freak (my wife is biting her tongue right now), but seeing these bugs zipping all over the where we prepare our food upset me.  How could we be so slobby?  
Now if you hate insects–and are reading this the way other people watch horror movies–prepare yourself.  Cue the creepy organ music.  
Kim and I barely notice little ants anymore.  But we do notice them.  If I find, for example, that a box of cereal has been discovered by ants, I pull out the bag…and put it in the freezer.  The ants die.  We eat the cereal.  
If that freaks you out, Kim sometimes won't do that.  She'll just eat the cereal.  Certainly if she sees a few ants in her coffee, she's not about to sacrifice a nice cup of Nicaragua coffee–they grow excellent coffee here.  "Just a little protein," she declares, and drinks it without another thought.  In case you think we're exceptional–or exceptionally gross–I've swapped this story with many other missionaries.  Almost all of them have some version to tell, the adjustment and the laughable newfound ability to disregard these critters.  
We do, however, each have our weak spots.  I have a lifelong loathing of cockroaches which Nicaragua has not cured.  I'd rather see a tarantula than a roach.  I know that's not rational, but we all have our kryptonite, don't we?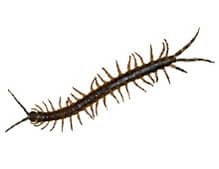 Kim's is the deadly Randall.  That's probably not the scientific term.  Entomologists call them centipedes.  We call them "Randalls" after the purple antagonist in Monsters, Inc.  Kim hates them.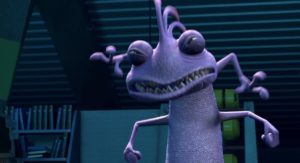 There may have been a day–whether in legend, myth, or history–when I killed a Randall but did not remove it quickly enough from the kitchen.*  In retaliation, one of my daughters who is not squeamish may have thrown a live cockroach at me.  And hit me.  And I may have made a sound that some would interpret as a gasp or scream, though I'm certain it was more of a manly bellow.  
Mosquitoes and ticks are another subject.  Mosquitoes have caused us more misery here than anything else (except a few people**).  The Big Three that mosquitoes carry in Nicaragua are dengue, chikungunya, and zika.  I'm guessing you've read about zika, and it's probably worse than you think.  A doctor friend recently told me that we're still discovering what effects zika has on newborns whose mothers have the disease, and microcephaly is the tip of the iceberg.  
For others, the danger appears minimal and the symptoms hurt much less than dengue or chikungunya.  But zika is also asymptomatic for many–possibly up to fifty percent of those who have it–and worst of all, zika can be sexually transmitted.  All humor aside, for expecting mothers, zika is a nightmare and I would urge pregnant women to avoid countries with high reported incidence of zika…then pause to remember that poverty means expecting mothers here have no such choice.  
I've described chikungunya.  Remember that Princess Bride line, "Wallowing in freakish misery forever"?  No, not forever, but Kim continues to feel the effects many mornings when her feet ache as she climbs out of bed.  I don't recommend it.  Dengue comes in second place, agony-wise, unless you get the hemorrhagic variety, which I also don't recommend.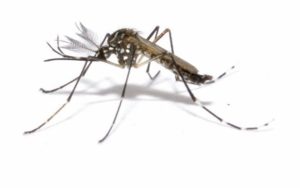 So mosquitoes are the actual worst.  But if you're a genuine bug-hater, ticks win the day.  There are many times when I have to bite my tongue because living in Nicaragua can make it easy to play the one-ups game.  "Oh, you think it's hot there?  Let me tell you about hot!"  "Oh, you think the driving is bad where you live?  Try living here!"  I'm sure his technique is featured in "How to Lose Friends and Alienate People."  So I try hard not to diminish other people's experiences by one-upping them.  Someone finds a tick on their dog and posts about it.  A tick.
So I don't sound like I'm exaggerating here, I'll tell you this story.  One day at a previous house, the back door got left open and one of our dogs came in and laid down on the tile.  I was  very annoyed–okay, angry–and for the heck of it, decided to count how many tiny little ticks I had to kill that had come swarming in off this dog.  That day, that one day of the six years and three months we've lived here, I killed over 800 ticks.  No typos there.  I don't know how many ticks I've killed since we've moved to Nicaragua, but if it turned out that I've killed 10,000 ticks off of dogs, I would not be surprised.  
No, our lives are not endangered by these icky creatures from hell.  I've never heard a report of lyme disease from anyone we know here, and statistics show it is extremely rare in Nicaragua.  Thank God for that.  The nastiest bug experience we've had was when we had a tick infestation in our home.  They were an army, attacking in waves, and of course seeing ticks crawling all over your floor makes you feel like you have ticks crawling all over your skin.  You're probably feeling them right now, just reading this.  You're welcome.  We finally found some anti-tick medication for our dogs that works, and for the last year have seen very few.  Thank God for that, too.  
There are a few other insects I should mention, though they are not such regular visitors for us.  Fire ants, so named for the burning sensation their bites cause, are tiny red ants that look like the ones that frequent our kitchens.  Some of them live on the field where we play ultimate, so now and then, especially  if one of us decides "what the heck, I'm going to walk here barefoot," a hopping and thrashing and desperate self-slapping occurs.  Everyone knows what it means.  Fire ant stings burn for 5-10 minutes, though some people are more sensitive and get huge welts to go with their burning.  
Our good friend, Jeff, once got bit by a bullet ant.  I've never heard of anyone else here seeing a bullet ant here.  But for perspective, Jeff is our friend who last year competed in Fuego y Agua, a race that is, frankly, insane.  Probably the description "24+ hour endurance survival race" tells you all you need to know.  Jeff said it was the most painful thing he'd ever experienced and hit him almost instantly.  He experienced waves of pain and nausea the rest of the day.  Jeff told us that after it bit him, the ant swaggered off, as if to say, "Yeah, I'm a bad ass."  Jeff was in far too much pain to argue.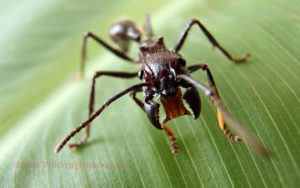 I know this has probably made a few of you vow never to come visit us.  I understand.  Though bugs are a constant in our lives, other than when they are giving us nasty diseases or invading us, they are not an influential part of life here.  They're another example of how you really can get used to almost anything.  
PS After I'd started writing this, I went outside to feed the cats…and found another tarantula.  The cats had already killed it.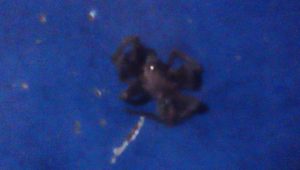 *Reports vary.  Remember that not all narrators are trustworthy, and some trustworthy narrators aren't entirely objective.     
**Wait–did I type that out loud?