Nicaragua Diary, Day 5
Seamstress.  
We have a neighbor about three blocks up the street who has a sign out offering mending and alterations.  
She looks about fifty-five to me, but I've been fooled before.  I know people here who appear ten to twenty years older–to me–than they actually are.  Lack of dental care, poor nutrition, too many years of too long hours take a toll on the body.  Living in the barrio can take a toll on the body. 
She has a beautiful smile and, when she smiles, which is frequently, her face brightens.  Her wrinkles are adjusted for smiles.  She is clearly one of those people who has smiled a lot in her years.  
Today, I had to pick up six pairs items, pants and shorts, school uniforms* that she had hemmed for us.  They huge road machinery is still working on our street–paving!–so I had to tiptoe around the work site by the side of the road; a big stretch of the road is now wet cement.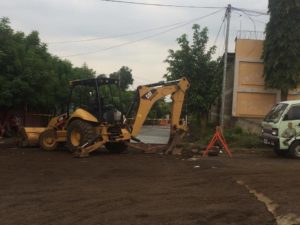 I got to her house and she greeted and welcomed me, smiled at me, then went through five or six plastic grocery bags, seeking to identify the clothes that belong to us.  She found them and laid each one out for me, showing me what she had done.  I then handed her a shirt that my son had just gotten that had already opened up a hole in the seam at the left shoulder.  She waved her hand and told me that she would fix it but would not take anything for it, that it was nothing.
Then I handed her two hundred cordobas, asking if she had change.  Two hundred cordobas is just over six dollars (30 cords to the dollar right now). She gave me one hundred eighty cordobas in change.  That meant she had done the altering for sixty cents. 
"Are you sure?"
"Yes."
"Shouldn't it be more than that?"
"No.  And this shirt is nothing.  It will be done this afternoon."
"Okay.  You're sure?"
Now even by the standards of our barrio, that is too little.  But she wasn't changing her mind.  So I thanked her and clasped her hand and blessed her and tiptoed my way back through the road crew and tools and crying concrete.  
About 45 minutes later, our neighbor Mileydi tapped lightly on my door.  
"The costurera is here."
I went out and greeted her.  She asked me how much I had paid for the mending and I told her twenty cords.  
"Okay,  My daughter asked, 'Momma, how much did he pay you?  You only got twenty cordobas.'"
"How much was it supposed to be?"
"Cien veinte ."  
Fortunately, I still had the 180 cords of change in my pocket.  I took them out and handed her the hundred cord bill.  
She hesitated.  Asked how much the change should be.  I showed her the hundred cords in one hand, the eighty in the other, said, "I gave you cien cords, so veinte more, one hundred minus twenty  is eighty."  
She kept smiling but didn't seem convinced.  I walked her through the arithmetic again, then twice more.  Finally Mileydi walked over and, as far as I could hear, repeated the same thing I had said but in better Nica Spanish, without the gringo accent.  
Our costurera smiled at her and closed her hand on the hundred cord bill.  
"Si.  Gracias," she said.  Then she handed me the shirt, already stitched.  
"Nada," she insisted.  
Now during all of this, I offered all hundred and eighty cords, and then the fifty and then the twenty in addition to the hundred she accepted.  Repeatedly.  She wouldn't take them.  But she smiled bigger and told me her daughter was right.
"Tell her I kept asking.  Tell her the gringo is not a ladrón!" I said, smiling back.  Mileydi laughed at me.  
And our neighbor walked back home.  
You would imagine, before you entered this culture, that you could just insist on overpaying.  And you could.  And we do, sometimes.  But doing so can risk damaging the relationship.  There are Nicaraguans who see all gringos as rich and seek to overcharge at every opportunity.  And there are also Nicaraguans who refuse to take even twenty cordobas extra, because her price is twenty cords per garment.  She doesn't do math well.  But she's rightfully proud of her work and she won't take more from us than from her other neighbors. 
Because she sees us as neighbors, too.