June 26, 2017 marked nineteen years since my dad died. Impossible. How could my father be gone for nineteen years already?
I've referred to him often on here but I've never written a post solely about him. That might appear strange, since he had such a huge impact on my life. He was a contradiction. It's hard to capture my feelings about him because they were, and still are, both strong and contradictory.
Yet in one sense, everyone else's life is a mystery to us. We don't really understand how other people work or think or make choices, so we just guess and project, based on who we are.
Alan Miles Rumley was born on December 5, 1929. He used to joke that he was born both the year the stock market crashed and just before Pearl Harbor Day. He was endlessly self-deprecating, yet he really believed he was "smarter than the average bear," "a better driver than 99% of people on the road," and "honest to a fault." Even just quoting him fails to do justice to how he would inflect each word and how often he would repeat them. Every description is shorthand that leaves out crucial aspects.
I can tell you stories about Dad that make him seem a monster and others that would convince you he was a great father. Neither capture the whole truth.
For a man born and raised in The Depression, who grew up poor and often neglected, he was remarkably expressive of his love for us. Many men of his generation never hugged their children, never said, "I love you." Dad was affectionate and free with his words, including the endearing ones.
Dad talked a lot. He talked more than any other human being I've ever met. He loved to talk. Why did he talk so much? Did he just love to hear himself speak? Was he insecure and tried to fill that emptiness with words? He was a great storyteller. His best stories were about himself, his own pitfalls and pratfalls and foibles. But some of them were amazing, because he was astoundingly brave. He was more determined than anyone else.
When he was young, he performed physical therapy on himself to straighten and strengthen his polio-damaged leg. He described walking back and forth for hours, for months, until he could walk without a limp and then, finally, run again. He didn't get any medical help, he just made up his mind. Dad became a collegiate track star in the half mile (we call it the 800 meters). I read an article about one of his races from a Chicago newspaper.
He was a terrible student in high school. He barely made C's and some teachers passed him–and told him they'd passed him–just so that they wouldn't have to see him again the next year. But because he'd learned to type–barely–he became a company clerk in the army during the Korean War and was stationed in Germany. Then he not only went to college, he went on to earn his M.S. in earth science, and had the credits hours for the equivalent of a second Master's.
Every summer when I was very young, we would travel to a different geologic site in the U.S. because he had received a grant to do research there. He was "Henry County Conservation Teacher of the Year" in 1972. Nineteen Seventy-Two. How many were even paying attention to conservation in 1972?
He suffered a lot; he never did so quietly. It was hard to feel bad for him because he constantly expected us to feel bad for him. I don't know how old I was when he started telling me his problems. I'm shocked as I raise my own kids. Was I nine? Did he really tell me (and not just once) how his health problems discouraged him, how hopeless he felt that he would ever get better, when I was in third and fourth grade? My son is entering fifth grade, I have my own struggles, and this thought appalls me. Is this why I feel too responsible to fix everyone?
Yet my friends, for the most part, thought he was hilarious. He loved to laugh and joke and act ridiculous. He kept the price tag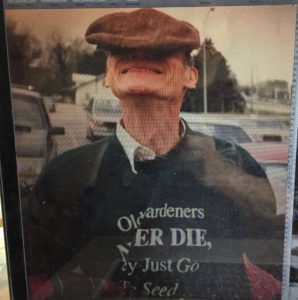 dangling from his Foster Grant sunglasses because he found it funny…and it may have driven one of my sisters crazy. We had so many inside jokes, so many routines and "schtick" we would banter back and forth:
"Write if you get work."
"Work if you get right."
Then there were the rages. Several years ago, some people from my school got into a discussion on Facebook about their former teachers. Many people said Mr. Rumley was a great teacher, if somewhat eccentric, but the comments I remember were from a woman much older than I am, who stated that my dad was a terror, a psychotic who should not have been allowed near kids. But he taught for over thirty years–he taught seventh- and eighth-graders for over thirty years–and spoke up for and befriended some of the most ostracized, neglected kids. He prided himself on advocating for students the administrators and other teachers wanted to expel and successfully helping the graduate.
Remember, those were different days in U.S. education: another teacher lifted me out of my seat by my ear and another time grabbed me by the neck and slammed me against some lockers. I don't doubt Dad traumatized this woman, though verbally, never physically. I'm sure I saw rages from him worse than she saw. But he helped a lot of kids no one else cared about. He loved to teach. One of our school's best students, who went on to get her Ph.D., shared at Dad's memorial that he had inspired her love of learning.
Dad was bi-polar. Manic depressive. A doctor diagnosed him what turned out to be six months before his death. The term was fairly new to me, but when we heard what the diagnosis meant, the symptoms they described, we all said, "Well, yeah. That's Dad." After his death, after I understood the diagnosis better, after I learned that he had died with thousands of dollars in anti-depressant pills hidden everywhere because he wasn't going to let someone "scramble his brain," I saw his rages differently. What chance did he have, with the biochemistry of his brain so messed up?
Yet reducing Dad to his diagnosis, or the negatives that people remember of him, is just as one-sided as trying to brush these things aside. Dad was raised by a semi-invalid mother and an alcoholic father and never drank a drop of alcohol (that I knew of) in his adult life. He suffered horrible asthma and emphysema, yet spent how many countless hours hitting me grounders, pausing to cough and choke and spit, and then hitting some more. I didn't become the shortstop for the New York Yankees, but I did know my dad cared about me, measured sheerly by how much time he spent letting me dream that I could be.
The older generation loves to joke, ha ha, that when the younger generation grows up, their parents will become so much wiser, ha ha. Meaning "we were right all along and someday you'll have the sense to admit it." Dad was wrong about a lot of things and he was difficult to love while he was alive. I did love him, and in his later years I could see more clearly that he loved me. The wisdom I've gained is that I understand better how he tried to communicate that love, and that his destructive behaviors did not negate that love. For all his words and his constant dissecting of everything in his mind, he was not self-reflective and certainly not self-aware. He needed people to accept and appreciate him and struggled mightily when they refused. But we don't control others' responses to us. That wasn't wise or healthy; I'm still trying to unlearn that need myself.
When people say they had the kindest, wisest, gentlest, most patient father in the world, I can't relate. I used to feel jealous and resent all the work I have to do just to maintain staying level because of how Dad was. But my dad loved me. He wanted to be a good father. He couldn't always overcome the voices in his own head, the demons he faced. He struggled his whole life to find peace with God. I believe, at the end of his Job life, he found it.
He was my dad.