I miss snow.
It's easy to make lists of what we miss, any time, but it feels far easier in December.  I'll probably make the "stuff we miss daily" list here one of these days, because what we miss most of the year is not what you'd guess (I'm guessing).  But during Christmas time, during Advent, I think it's a lot more predictable.
I've lived the majority of my years in places with well-defined seasons, in which Christmastime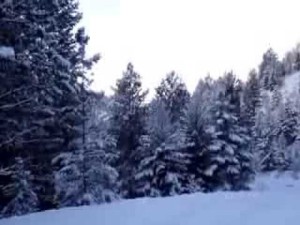 means cold and snow and sledding and hot chocolate and pine trees.  A tradition I miss, possibly  more than any other, is getting our permit from the Forest Service to cut a tree–which benefits them through receiving fees and helping with thinning (cumulatively)–then bundling us all to tromp through the snow, up and down some national forest hills until we find the perfect tree (i.e. the one on which we can agree, which becomes progressively easier the colder we get), then burrow down in the snow and take turns with the saw until we bring it down (Dad pretty much always bats clean-up on that one), haul it back, drink the hot chocolate waiting for us in the car, tie that tree on top, and drive it back home so we can set it up and decorate it.  I've done this since my father and I went out together during my college Christmas breaks.
But of course, we don't do it here.  That's a cost we pay for living here.  It's a real one, and for me one much harder to pay than the luxuries or physical conveniences that we barely notice living without anymore.
It never snows here.  I know, when your car won't start and your hands are stinging and you're so sick of scraping your windshield, that sounds like heaven.  I don't miss winter very much of the time.  But winter and cold and snow mean Christmas to me, and living in Nicaragua means never having these cues of the Advent season.  So I have learned to start believing in Christmas without snow.
I wish my kids could sled.  I wish we could build snowmen.  I wish we could make snow angels and throw snowballs and suck on icicles and come back in to thaw out by our woodstove.  Where we lived in the States, we could sled on our driveway.
Advent is the season of waiting, of preparation, of anticipation.  We await the coming of the Christ child.  We prepare our hearts, as originally new converts to Christianity prepared through Advent for their baptism at Epiphany (the celebration of Jesus' incarnation as represented by the visit of the magi, the "wise men").  We sing and we light candles and we give presents and we rejoice that God, almighty God who is light and love and joy, came to be with us.
So how does this work for me?  I'm not waiting for snow.  I'm not hoping for cold or preparing my heart for a white Christmas.  I would love one (though that would be classified a natural disaster here), but there are ways to wait on God and there are…delusions.  I'm not the Guinness World's Record healthiest human, but I'm not  delusional, either, hardly at all.
One of the things I've learned living in Nicaragua is that you choose to pay the cost, as Jesus described, of trying to follow where he leads, but some of the choices are not once and for all.  Some of the costs require ongoing choices.
I don't mean that I'm still choosing a place that lacks the joy of all my childhood associations of winter for Christmas.  I don't wake up each morning in December and decide yes, I'll keep living in Nicaragua.  We are here, and until God says otherwise, we are staying.
I mean that God has taught me how to embrace the choice.  Tonight we had a special dinner with our fellowship's elders and council.  The table had decorations suggested Christmas.  The table had candles.  It was probably 80 degrees outside, but I chose to feel Christmas in the decorations.  The youth band played at our fellowship this morning and after the service they played an impromptu mashup of carols.  I soaked it in.  I look at all the lights my neighbors put up in this poor barrio, and I choose to feel their celebration.  Two years ago, a friend here who taught blacksmithing made three-foot metal Christmas trees, and we hang ornaments on it and surround it with a Nativity set and wrapt it with a red tree apron.  We aren't pretending it's an 8-foot pine tree; we're enjoying what we have and celebrating what is here.  Nicaraguans adore, I mean adore, fireworks, and the month of December is a non-stop firework festival in Managua.  That is not my tradition, nor my kids', but we join in.  We run around with sparklers and we go outside to watch them light up the sky.  I think sometimes we enjoy it and sometimes we enjoy their joy in it (and sometimes we wish they wouldn't start before 6am).
We replaced snowball fights with water fights.  We still bake cookies and share them with the neighbors–yes, you're right, I do more sharing than baking, but most folks are grateful for that choice, too.  We sing carols in the car.  We do "The Twelve Days of Christmas" when we're driving far enough to get them all in, and "Christmas Is Coming" when we're not.
We share more here.  When we give presents, some of the people who receive them aren't getting anything else, so it isn't piling on top of all the others and they aren't trying to figure out how to say "thanks" for something they didn't need.  We ask this question: "What do we get for the person who needs everything?"
We buy fewer presents.  If there is one thing I am grateful for in celebrating five years of Christmas in Nicaragua, it's that we've been able to scale back our family presents to closer to what I would consider a sane, reasonable level…and no one has complained.  We don't have a lot of spare money for Christmas, and our exchange of gifts often comes largely through the generosity of our families.  When our children receive small presents and rejoice, genuinely cheer and holler and, in our young son's case, jump up and down, I can almost, almost see that this isn't a cost we're paying; this is a blessing we're living.
O come, Thou Day-Spring, come and cheer
Our spirits by Thine advent here
Disperse the gloomy clouds of night
And death's dark shadows put to flight.
Rejoice! Rejoice! Emmanuel
Shall come to thee, O Israel.