Nicaragua Diary, Day 124
My neighbor, Mileydi, asked me where in the Bible it talks about La Roca.  The rock.  
The Bible is a big book.  I've read it and I can search Google, but we're still talking about a big question.  
My mind went immediately to Jesus' parable of the bad workers in the vineyard because it concludes with Jesus' saying to the Chief Priests and the Pharisees:
  "Have you never read in the scriptures:
'The stone that the builders rejected
    has become the cornerstone;
this was the Lord's doing,
    and it is amazing in our eyes'?
I read this whole passage through for her–yes, in Spanish–and explained how Jesus is telling this parable about the very people to whom he's telling it. 
But that wasn't La Roca she was looking for.  So she talked a little more about what she remembered of the passage and it finally clicked–"Oh!  Building on La Roca!"  
So I read to her: 
 "Why do you call me 'Lord, Lord,' and do not do what I tell you?  I will show you what someone is like who comes to me, hears my words, and acts on them. That one is like a man building a house, who dug deeply and laid the foundation on rock; when a flood arose, the river burst against that house but could not shake it, because it had been well built. But the one who hears and does not act is like a man who built a house on the ground without a foundation. When the river burst against it, immediately it fell, and great was the ruin of that house."
She was thrilled.  Bouncing up and down excited.  Yes, this was the passage!  She high-fived me several times.  I'm a big high-fiver.  We both agreed that nos encanta this passage–we love it!
Then she explained that she wanted to preach on it in a few days.  "Oh!" again!  
So we talked through the passage.  I told her that, to me, the most important word is cuando vino una inundación, "when a flood arose," because people need to understand that the flood rises for everyone, whether sooner or later.  Not "if the flood rises," but "when."  We discussed the contrast between building on rock and building without a foundation.  Two houses might look identical from the outside, but the difference when they get hit by the storm will be absolute–one will still be standing, the other will be gone.  
We talked about how she's experienced that since she chose to make her life about following Jesus in the last year plus.  She told me she was nervous but felt strongly that this was the passage God had put on her heart to preach.  
Mileydi reads, but not at a very high level.  We went through the words in the passage, and this was my moment, perhaps more than any help I'd offered interpreting the passage.  I'm not fluent in Spanish.  Mileydi's first language is Spanish.  I'm reading to her and clobbering some of the pronunciations.  "Clobbering" as in mangling.  But she doesn't sight read easily.  So together we're getting the words that she of course knows but doesn't always know when she sees them in print.  
We went over it twice together.  She told me she was nervous but would practice a lot before the time came.  
---
Mileydi preached last night.  I was sad that I could not walk the three houses up the street where their tiny church meets to hear her sermon.  
I couldn't because last night was also Corin's school Christmas concert, and every parent knows you have to go to the big school performances.  It's funny, because it's four minutes of your child performing in a three hour evening.  But even as we drove there, Corin asked why his sisters weren't going with us.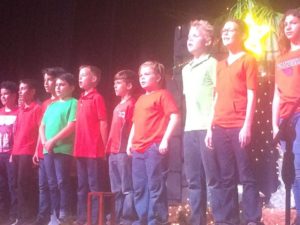 I've missed a couple of these in my tenure of raising four kids.  Even though I tell myself it's just a few minutes, I always regret it and feel an emptiness.  Now, especially, as we near the end of our youngest child's elementary years and performances, I can't miss one.  
---
This morning, I got to ask Mileydi how it went.  She didn't say "fine."  She recounted her sermon to me.  Not word-for-word, but more than the highlights.  
Have you ever had that moment when a friend is telling you something and it's not the information but their joy and enthusiasm that knocks you over?  
Yeah.  
Mileydi described how she told her church, "This is what I know of building my house on rock."  She talked about being part of church, about how she knows she can't do it on her own, about really praying with her heart and not just her mouth.  
In the three years we've lived in this barrio, we've seen this transformation.  Kim has loved and mentored Mileydi as they've run the preschool together.  We've watched God redeem her marriage.  We've seen her grow in parenting.  We witnessed God physically heal her.  And we've seen God provide for their family each day.  
I'm a more experienced preacher.  I have a seminary degree. I've studied and preached on this passage I don't know how many times while Mileydi didn't know how to find it in the Bible. 
As good as I am (or like to believe I am) with words, I'd rather hear Mileydi's sermon on Luke 6:46-49.  But God, showing me great love and sheer extravagance, let me be part of that sermon.  Then I got to rejoice with her.  
Mileydi said,  "I was really nervous before, but when I started to preach, I was fine.  I wasn't nervous anymore."  
I told her, "Me, too.  Every time.  Before we start it's awful, we feel sick.  Then we stand up and God's spirit is with us and we're fine."  
She thanked me, but it was both my pleasure and my calling.  When you're a preacher, you help other preachers.
Mileydi is a preacher.