Disclaimer: This is not Rumley. I am the captain now.
Okay, for real. If you understood and laughed at my meme reference, thank you. Rumley has invited me to be a guest speaker in his blog, which is honestly crazy to think about and even crazier I said "yes." My name is Rebeca Reyes, aka Beca. I just graduated high school this past June. If we are being honest here, high school was simultaneously amazing and horrible, and I am still trying to figure out the midpoint of it all.
It was amazing in the sense that I was able to discover my true group of friends, be part of events such as Amplify (worship band) and Launch (high school youth group), find mentors that truly shaped my spiritual development, and actually have teachers that made learning enjoyable. It was horrible in the sense that I fell off the wagon multiple times and my anxiety was in an all time high, specifically the first semester of Senior year. But if we are focusing on the positives, I think the best of them all was finding good mentors.
Rumley is one of them. At the end of Junior year he asked if he could mentor me, which I was shocked because I hadn't really talked to him much previously. In our first session I said, "I don't cry a lot" and proceeded to cry, but that's besides the point. Rumley was also our Senior class second semester Bible teacher, where he introduced us the idea of: X, which it's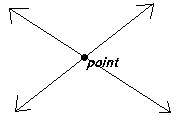 actually supposed to be two arrows but this works as a visual. One arrow is your passion, the other is the world's needs, and the midpoint is your calling.
Throughout the entirety of my Senior year, I had no idea what my calling was. I had an idea, actually a thoroughly thought out plan of what I wanted for my life. I have been a straight A student since 1st grade and have always been a firm believer of self-improvement, which eventually led to pushing myself too hard. The point is, in 10th grade I decided that I was going to study Biomedical Engineering at an Ivy League college, UPenn being my top choice. Let me clarify, these goals in and of themselves are not at all bad; they are actually pretty solid and ambitious. Still, all my high school I worked up towards this goal. In my mind, all I needed to do was work hard. Even when I told my close friends about my plans they would reassure me with, "Oh, you're totally going to make it." Although they meant well, it made me more anxious.
Senior year came by, and my plans for the future started to change. By the first month of Senior year I wanted to study Creative Writing in Boston University, another dream that isn't bad at all. My father being father, of course, opposed this idea because "I had to make a living." All in all, I was very confused my Senior year, which made me so frustrated because I felt that all of my plans, everything that I had worked for in these last 4 years, had gone to waste. With that thought, I honestly believed that God was mocking me. My mind was flooded with thoughts like, "Why did you think you could do it? You're not good enough. Deep down you knew it wasn't going to work, so why did you try so hard? Dad was right." They are dark thoughts, but that was going through my head.
By the end of Senior year, I stopped caring #senioritis. With the help of my mentors, I realized that all of those thoughts were lies, and I had to start the journey of finding out who God really is and what would he really say. So, when I say I stopped caring, I mean I came to the conclusion that whatever needs to happen will happen; I became okay with not knowing. I still made plan B-Z and worked with whichever seemed more viable. A week before graduation, I finally made the decision to
attend the University of Waterloo, studying Environmental Engineering. When I made that decision, I cried (shocker) because it was a sudden wave of relief. There was still one thing I wasn't so sure about: what am I going to do with that degree?
Still, having  no idea about my stupid X, I graduated high school and rolled into the summer. During the summers, I work as a translator for short term missions trips, and during this specific summer I worked only with Connect Nicaragua. I had met Katie McGrew and Larrys Mendoza, the leaders of Connect, on the summer between my sophomore and junior year when I took my first missions trip to Rio Blanco. They both showed me the embodiment of loving others with God's love. The following two years, they had invited me to work with them as a translator, and Katie quickly became my mentor and friend.
I still remember the first year I was working with Connect, and we had a women's night in the church in Rio Blanco. After the service, Katie came up to me and she told me, "you have to stay or at least come back to Nicaragua." I remember being shocked because never have I ever been introduced with the idea of being a missionary. I left it at that and never gave it too much thought. This summer, at another setting but the same city, while we were saying goodbye to the kids at Walter – a public school we work at in Rio Blanco – all of them were lined up to sing the national anthem. It was around 5:00P.M. The sun was setting, and the sky above us were cotton candies and lilac fields. While we sung the national anthem, there was this focus from all of the kids and team members. In that moment, I knew I had to come back to Nicaragua. I still didn't know what I was supposed to do, but He confirmed that this is where I need to be after college.
I kept working with the Connect team throughout the summer. I had already worked with one team from Virginia Beach, and it was the last day of another team from Washington. For many reasons, this team was one of the most intense ones I've had so far. It was the last day and we were back from working with eighty, yes ochenta, kids at an organization called MIMA, which works to prevent kids from being exposed to life on the streets (drugs, prostitution, etc). It was a pretty hectic day, to say the least. Still, those kids are so wild and joyful, and they are always in constant need of extra love, which in their language might mean wrestling with them. Annelise, a girl I befriended on the team, needed a bag, and we went inside Katie's house to ask her for some. We sat on her couch and stayed there talking. I am not sure how the conversation came up, but I started thinking about when I came back to Nicaragua from college. Then I blurted out, "Will you wait for me? Will you be here when I come back?" This was an odd question, especially since it came literally out of nowhere.
At that moment, I knew what I was supposed to do. I wanted to graduate college, come back to Nicaragua, and work for Connect. Katie asked me why, and I suppose a lot of other people will ask me why. All my life I have been imposed these high expectations from my dad, friends, and mostly myself. I grew obsessed with achieving this image of perfection that would please others. By the end of my high school career, I could achieve this perfect outwardly image that completely wrecked me inside. However, in doing God's work, there is no expectation other than loving, and I can't even love with what I have. I have to love with the love God gives me. There is nothing of my part, and there is no gain or praise for what "I" have done because it's not me, it's God working through me. Additionally to hearing the greatest relief of my life, I truly can say I love being with people. If you know me, you know I always enjoy a good laugh while speaking to you in some heavy Spanglish.
And no, it doesn't make sense what I want to do now. It really doesn't because when Nicaraguans get the opportunity to study in a bilingual, private school it is to leave for college, and when Nicaraguans get the opportunity to leave for college it is "for good." In a way, I am so glad it doesn't make sense because it just confirms what it says in 2 Corinthians that "if we are out of our right mind, it is for the sake of God; if we we are in our right mind, it is for you."
I said it before, and I will say it again: my original plans were not bad. The only bad thing is that they weren't my calling. I was dreaming for myself  and what I  could do. I forgot to dream with God. The idea isn't God joining your great plan, it's how you can join God's great plan.
So, how did I finally find that X I was fixated and obsessed with my entire Senior year? I stopped looking.