Nicaragua Diary, Day 45
---
Sorry I haven't posted lately.  I don't live in delusions of grandeur that people sit around wondering why I haven't posted.  I do imagine that, eventually, someone notices.  
Sometimes the darkness overwhelms me.  I tried to write a post about the school shooting in the Spokane area and about a horrible response to the young woman who was murdered in Charlottesville by a white supremacist who attacked a group of pedestrians with his car.  If that's not an act of cowardice, I don't know what is.  Someone from our county posted a meme mocking victims of such violence on an official county law enforcement page.  I dug for a response but couldn't find it.  Maybe I will.  
---
Today, we had brunch with friends, the Whitings.  The Whitings lived here and served as missionaries with Servant Partners.  Then the Whitings moved. 
But the Whitings came back!
Part of missionary life is learning to live with the revolving door of gringo friends.  I've had three sets of what I would consider best friends here who all moved.  (Yes, it might be me.)  Now that just sucks.  Developing the trust and openness and honesty, figuring out if you're safe to be honest and open, finding those people who will love you back and have your back and laugh at your stupid jokes, that's hard.  And costly.  
I have some close Nicaraguan friends. Some of my Nicaraguan friendships continue to get closer, 7 years later.  Praise God. Very few of them have moved away.  
But these stupid gringos keep coming and going again.  Plus, as I've described, I do student ministry, so I'm setting myself up to say goodbye to young adults in whom I've invested my heart, time, and energy every single year.  That's just the cost of using the gifts God's given me.  
Today, though…today we celebrated good friends, great people who love Nicaragua who had left but came back!  Their story isn't mine to tell–
Who am I kidding?  I'm a writer; we steal everyone's story.  They left because their situation here was not working for their family.*  We grieved their departure.  It came as a shock.
Here is the normal process:  People decide to leave.  They either have a clear idea of where God is calling them "back home" or they don't.  If they do, it's easier to bless them, though not always easy to let them go.  Often I'll have a conversation with them about how they hope to come back to Nicaragua.  We pray for them, they leave, they're gone.  
One of those stands out as the epitome of these conversations:  a gal who had been working with girls rescued from prostitution told me how heartbroken she was to leave and described her plans to return. She had done a fantastic job of pouring out God's love to those girls.  I gave her my advice about keeping that connection from a distance and the focus that she would need to come back.  Not long after that (by my time) I saw she'd gotten engaged.  She got married.  She had a baby.  She's not coming back.  
I'm not criticizing her.  She went on with her life.  I trust she's following God.  My point is, gringos rarely come back to Nicaragua once they've moved away, even if they think they will. 
Except that our friends did!  You learn how things work, you adjust your hopes and expectations, and then–surprise!  
When these friends left, they were also heartbroken.  We talked together and cried.  They knew they had to go, but they were miserable about it.  The fascinating thing is, they did need to go. We didn't even talk about their coming back because that didn't seem possible.  
As we talked today, as I got to hear the whole story of their coming back and not merely the Facebook messages version, it became clear that there was no route from where they were to where they are now without going back to the U.S.  They had to leave for this to work.  
In their case, they knew they loved Nicaragua and they had developed profound relationships here, but they needed a clearer sense of purpose.  We've experienced Nicaragua as wonderful at times and overwhelming most of the time.  There are too many people you can't help.  To live here as a foreigner in the midst of such poverty, you must either find a way to make a difference or learn to look away and ignore the suffering around you.**
I've certainly experienced depression living here.  During one dark period, we seriously discussed leaving; I would have quit and left at a moment's notice.  One of the things that helped most, perhaps my crucial turning point, was reaching the point at which I could accept my limitations and focus on doing what I do well rather than on how badly I was failing at what I don't do well.  
Our friend had gotten discouraged.  He needed to return to the States, find his way back out of the darkness, and then let God show him how to use his gifts here.  They're going to live in a poorer barrio again and he's going to start an ESL program.  He's going to help people learn English so they can get better jobs and he'll try to give them a glimpse of God's love in the midst of that.  
It sounds like a simple decision, to return.  It isn't.  We live here primarily on financial support from individuals and churches.  Leaving the nation and the work for which you've received support, explaining to your supporters why you needed to leave, then explaining how you feel called to go back and asking for support again, that in itself seems miraculous to me.  Simply considering logistics, it's not surprising how few people come back once they've left.  
Now here's the truth:  I prayed they would come back.  It seemed like a stupid prayer.***  But I knew they wanted to be here.  I couldn't see how it could work, but they'd left so prematurely, so abruptly, under such difficult circumstances…and I wanted them back.  I figure God knows best and we can pray for selfish things that are out of our power to control.  I didn't tell them they were wrong for leaving–we all figure out how to deal with our own struggles–but at the first hint they might consider returning, I jumped up and down.  And I admitted I'd been praying for that.  
Having them to our house for brunch today felt a little surreal.  When people go, they go.  
But the Whitings came back.  They remind me that God can do more than we imagine–we were just talking with them about this today!–and just because I've seen things happen a certain way here doesn't mean things always will.  That way lies cynicism.  
So welcome back, Whitings!  Thanks for the hope!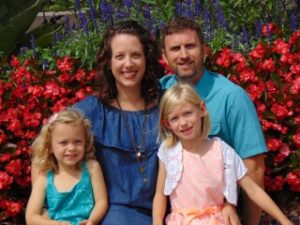 *This story is stolen with permission.  
**I'm oversimplifying, of course.
***Are there stupid prayers?  I'll leave that to you to answer.