Okay, Part II.  It's been a good and very hard day.  Those rarely go together, at least not in my initial assessment of them.  Sometimes I can look back later and see good things God has done through hard days.  We like to say a lot of wise-sounding stuff about how God teaches us more through challenges and struggles and bad days than through the Wine and Roses days…but most of us don't cheer when the former come along and pray like crazy that they will pass so we can get back to the latter.
With that in mind, I'm going to try a list of difficult things for which I'm grateful.  The most obvious thing to say is, "I'm grateful for all the difficult things in my life because they have taught me humility."  As I mentioned elsewhere, I believe humility is the characteristic God most desires in us, because it leads us into right relationship with God.  Not all difficult things teach humility, though, and we don't always let the lesson sink in, either.  So a few of these will be for the humility I've gained, but I'm aiming for a more specific list.
I have to pause for a second and acknowledge that I have not yet reconciled myself to some of my flaws.  That's a nice way to say I still hate some of these things about myself.  You know that not-to-be-found-in-the-Bible line about "Love the sinner, hate the sin?"  I'm not good at that with myself.  "Love your neighbor as yourself" (that one is in the Bible) implies that I can love myself, that not only can I manage it, but I can pull it off well enough for it to be the measure of my love for others.  This is beautiful, from the perspective that God loves me and is teaching me to love myself as he does, and through that leading me to love others.  But I'm a slow study.  Maybe that's why I focus on grace.  It's my only hope to learn to love myself.
Here we go.
I am grateful for my dad.  He loved me and he tried to love me.  He taught me that people are more important than money or things,  He showed me the joy of laughter and the freedom of being ridiculous. I learned some great things and quite a few awful things from him.  But he wanted good for me.  I spent my twenties wishing and praying that God would send someone along to be a father figure for me and make up for some of what I missed (or got wrong) with my dad.  God didn't do that, and the efforts I made to create that for myself were disastrous.  Probably a lesson in there somewhere.  After I had kids… no, I didn't realize that he knew so much more than I ever imagined.  I just grasped that the job was much harder than I'd understood, and I saw how much of his life he had poured into being our dad.
No one chooses to be bi-polar.  He didn't want the struggles he had.  No one hopes to have a parent with this condition, either.  It made some things that others take for granted pretty darned hard.  Add a chronic illness, severe asthma and emphysema (SARS they call it now) and it seemed the deck was stacked against him.  I mean, from here it seems that way to me.  At the time, I suspected it had been stacked against me.
But the truth is, God blessed me in two ways through my dad:  I got the good stuff he passed onto me through nature and nurture, and God redeemed the bad stuff by forming me through it to equip me for my vocation.  Dad talked too much.  I mean, more than you're picturing.  Too much.  And his moods swung wildly.  From that, I developed the intuition and empathy and ability to listen and see that all make me able to mentor and disciple young adults.  Redemption.  Most of my pastoring-related gifts come from Dad's strengths or my coping abilities that God has re-purposed.
Don't get me wrong, there are also a whole mess of defenses that I had to–and have to–unlearn.  Some of my intuitive responses aren't healthy, because they aren't yet sanctified.
Overall, though, it's fair to say that I can do what I do for the Kingdom of God in significant part because Dad was my dad, and because God's grace in my life proves greater than those tough cards.
---
One of my good friends has told me that I always see myself as the underdog–even in situations where that simply isn't true–and this self-understanding may be what motivates me to push as hard as I do.  Yes, I'm talking about sports and competition again, but I think the insight reaches more broadly than that.  I wanted to be gifted in ways that I'm not.  And I wanted to be wildly gifted in ways that I'm mildly gifted.  I'm definitely not just talking about sports here.  It's easy to look at people to whom things seem to come much easier–to whom life seems to come much easier–and feel envious.  But I've learned that I take less for granted this way.  I see other people's short-comings and failures with more compassion than I would have if it all just clicked for me.  Granted, I also tend to judge people who squander their greater natural gifts.  I guess someone else can be empathetic with them I'm working on it.
So if God had seen fit to give me a sense of direction, I wouldn't identify with people who get lost:  "Just go the right way!"  If I were punctual, a friend who significantly miscalculated travel time (and maybe took a few wrong turns) would not have said, "We talked about it and decided, 'If you're going to be two hours late, Mike is the best person to be two hours late for.'"*          And I am.  I took that as a compliment.  Because I get it.
This one is painful to say, because I'm still holding onto this dream, but we're telling the truth here, right?  I've wanted to be a successful writer pretty much since I gave up wanting to play shortstop for the New York Yankees.  People encourage me and affirm my ability, but so far my writing gift has led to modest results.  It enables me to write sermons.  You're reading this blog!  (And believe me, I'm more grateful than all those silly best-selling folks combined!)  Maybe it's still coming.  Maybe God has in mind to use it in a different form than I've recognized.  Or maybe that just isn't God's priority in his Kingdom…and it is his Kingdom, not mine.
So I give thanks for being among the moderately gifted (or ridiculously un-gifted, in some areas), because God has used this to help me to see the world, and the people around me, with more grace and less haughtiness.  With both compassion and a belief in squeezing every ounce of ability from what I've been given.  I know I take less for granted this way.  Plus, who doesn't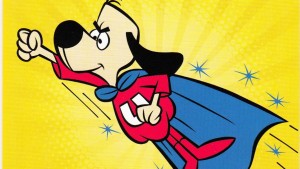 love an underdog?
---
The last one is the worst.  I'm always fighting the negative voices in my head.  I have found respite for short periods, when God shows me how to rest in him and let him defend me, but I experience them to behave like the nasty bacteria that keep developing resistance to antibiotics.  I think I have them figured out, then they find new ways to attack me.
Am I really going to tell you that I'm grateful for the critical, self-condemning, maddening hornets that buzz through my head and sometimes threaten to drive me…less sane?
I'm not.
But when Paul said he begged God to take away the thorn in his flesh, whatever that might have been, Jesus answered  "My grace is sufficient for you, for my power is made perfect in weakness." Paul concluded "So, I will boast all the more gladly of my weaknesses, so that the power of Christ may dwell in me."  I don't know that Paul and I are talking about the same category of weakness.  I don't know that battling hateful thoughts, whether from the devil, my own dysfunction, or a swell combination of the two, is something I can (or am willing to) boast in.
I do know that I am never, ever falling into the delusion that I can make it on my own, that I don't need God, that perhaps this is all just a cop out for the people too afraid to face life on their own.  Good luck with that.  I would be dead, many times over.  I would have wrecked my life on the first available rocks.
Imagine that breathing were a full-time voluntary action with occasional respites when it becomes involuntary, just the opposite of how your body functions now.  That's the best I can describe how living in my head feels.  I don't have to remember merely once in a while to sweep out those bad thoughts.  Other people take a nice, deep breath, or breathe a heavy sigh, and then turn it loose and it's back to running on its own again.
For me, it's breathe…breathe…okay, breathe…and again…don't forget…breathe…
When I let down my spiritual disciplines, it gets ugly fast.  And those old defenses that I've been trying to unlearn start shouting and waving their hands to volunteer to come back and help.
"You could just angry.  That's always helped in the past."  No, that's never helped.  Nice offer.
"Perhaps if we tried something to…" blink, blink, "take the edge off the pain.  Just a bit."  Yeah, that path always leaves me in agony.
So maybe Paul and I are the same.  This is my weakness.  My weakness keeps me close to God, who saved me and saves me and will save me until I don't need saving any more, which I anticipate will be about the time we meet face to face.
I'm grateful for the grace God shows me through each thought, when he keeps reminding me, over and over, that nothing separates me from the love of God.
Nothing separates me from the love of God.
Nothing separates me from the love of God in Jesus the Christ.
And I breathe.
*True story.  Real quote.