It's 55 degrees and raining in Wenatchee. Spring has been arriving daintily, touching her toe to the ground, pulling it back quickly, taking a few tentative steps in then jumping away again, ballerina-style. At least, that's how I'm picturing it, because some years we go from grey snow, sleet, and 35 degrees on Sunday to 87 and dry on Monday…and heading into the high 90's by this weekend. I appreciate that Wenatchee has four distinct seasons, but they don't divide out evenly on the calendar–at least not as I experience them: if you divide twelve months by four, winter shouldn't be three times longer than spring. Further, spring of 2020 was eclipsed by COVID-19 as we all tried to figure out what was going on, how bad it really was, and what we needed to do next.
The weather forecast for today was not promising. It sounded cold and wet, the kind of spring day when you find a good book, a hot cup of tea, and a window to watch how pretty spring is…without actually going out in it.
BUT.
But Kim and I have been running the dogs, Mumford and Nicki, for four miles every other day since November. Rain, shine, snow, sleet, utterly crappy weather, come what may, we're out there. We've missed a few for nagging, non-age-related injuries (cough, cough) but very seldom have we backed down to the weather.
AND.
Not only does spring passes quickly here, but our wildflowers are fleeting. Our PNW wildflowers arrive in early spring and, for the most part, die off four to six weeks later. I mean, they explode out of the hills. It looks like God showers the mountain with yellow balsam root and then, a week or so later, showers purple lupine right on top. We'll have scarlet paintbrush soon, but by then we'll already start to lose our balsam root.
You see, we live in a semi-arid climate. When I moved here, I thought that meant halfway between arid and not-arid, i.e. temperate. Nope. It means in the far end of dry, the arid quadrant, it's halfway between just a little arid and all-the-way arid, i.e. desert. Oh.*
Therefore, we get this breathtaking display of wildflowers on the hills and mountains surrounding our small city, but once they appear, we have a very brief window–maybe 6 weeks out of 52, if we're lucky. Then the sun bakes them, what little rain we have stops for the summer, and it all goes brown. Weeks of nineties and 100's. Semi-desert. It's a dry heat. The hills are still beautiful, but more of an austere beauty.
THEREFORE.
Today, we took the dogs and went. They got muddy. We got rained on. And it was wonderful.
First, the wind was not blowing, so the 55 degrees felt like spring, not those final throes of winter (apologies and pity to our midwest friends who got snow within this past week). Second, the trails on Sage Hills, and really everywhere around Wenatchee, are very dusty, already, so the rain more dampened and settled the dust than turned it to mud. Kim and I laughed because we were arriving just as the rain got more serious, while everyone else we saw was on their way out–as if they had read the hourly forecast while we only noted the daily summary.
As we run uphill and the flowers spread out before us, Kim says, "This feels like running through a movie scene of heaven. Remember that one with Cuba Gooding, Jr. and…Robin Williams?"*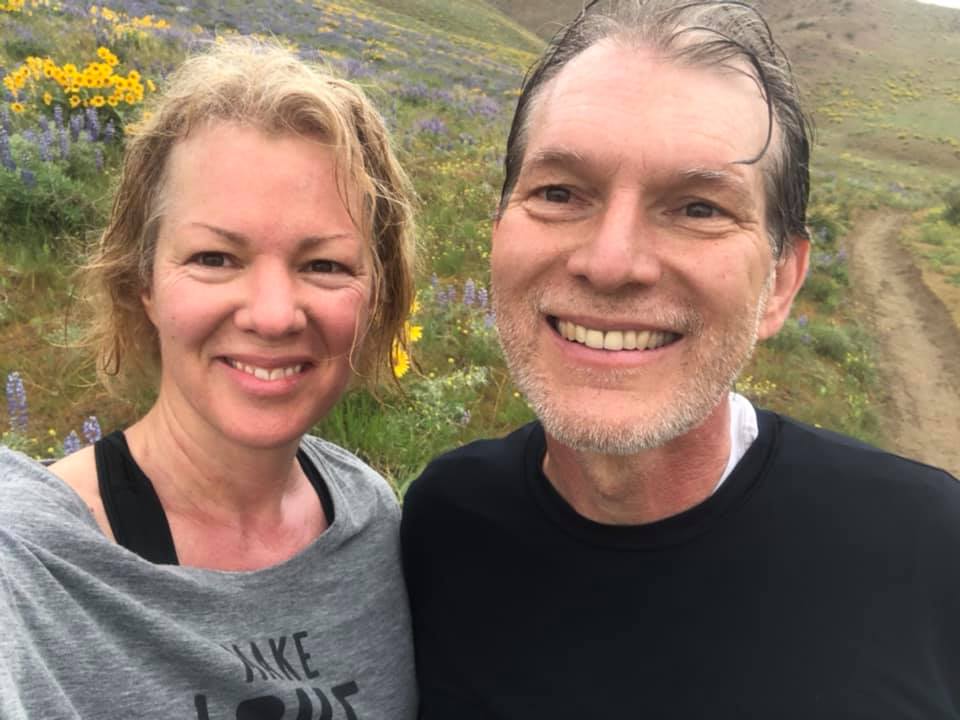 SO.
Yes, there were some small consequences. We had to block the dogs in the kitchen for an hour so they could dry out. My car will likely smell like wet dog fur (one of the lesser-selling candle scents) for a good while. I was ready for a hot shower by the time I got home and had some water.
I think that's it.
Getting out today was magical. If you don't live here and want to visit Wenatchee, you should come sometime in mid- to late-April. The window is small–but we've never seen anything quite like this anywhere else we've lived.
I'm a sort of once and future pastor, writer, mentor type, so I can't help but see lessons and parables and deeper meaning everywhere I look..
Sometimes, we have all the time in the world to do something. Or at least all the time we need. Sometimes "putting it off" doesn't cost you anything.
But sometimes, sometimes, the moment is now. This is it. You go and get a little wet and run through the most beautiful wildflowers you can even imagine. Kim said, "If people knew about this, they'd have to put in a paved trail, like Paradise on Mount Rainier." My mother-in-law, on seeing the pictures, says "I think God's favorite color combination is purple and yellow. You are surrounded by God's glory!"
Or else you decide, "Naw, that rain doesn't look inviting. The dogs will be a mess. There's always another day." We tried to remember when we had gotten up to Sage Hills last spring…and concluded we'd missed the whole wildflower extravaganza last year, again thanks to trying to navigate the bloody COVID-19 pandemic.
In theology, we talk about the kairos moment, the critical, opportune time, that one crucial moment. Is a jog in the mountains with your spouse and two dogs really a kairos moment? Or is this more carpe diem? Seize the day, as Robin William's character exhorted us in Dead Poets' Society, because tomorrow you may be worm food. For me, that holds even more gravitas since Robin Williams took his own life.***
I'm not offering any absolute interpretation and I'm certainly not weighing in to tell you which decision you should seize right now. We're coming through a pandemic and, though we may feel (so) done with it, the virus is not done with us. I just read a friend's update, describing her child trying to survive MIS-C. It's a nightmare. In this past year, the wisest way to seize the day, at least in terms of exposure and public gatherings, has generally been to err on the side of caution. So I'm not undercutting that wisdom now.
I'm looking a little deeper. Life is starting to look short, from this perspective. One daughter is leaving for college soon. Our eldest is already "out there," working as an EMT (our favorite first responder). Our youngest is a teenager. The days crawl but the years fly.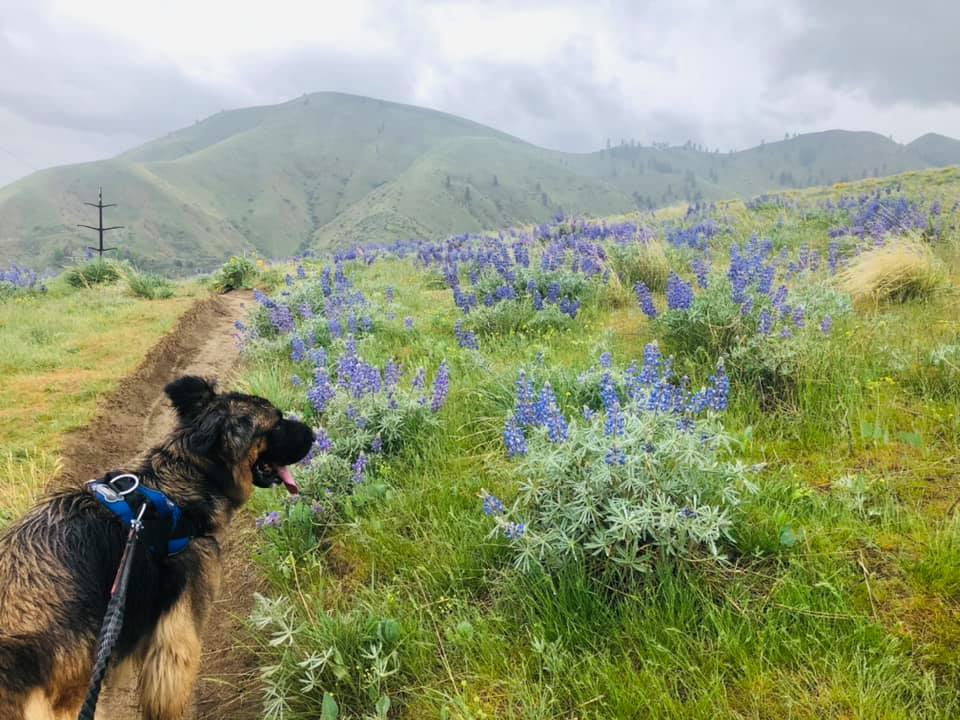 So gasping at and breathing in those wild flowers, I'm reminded that we have some choices that can't be put off forever and still be choices. "If you choose not to decide, you still have made a choice." Sometimes the harder-looking way bears riches that the easier way would never yield…and if we take the easier way, we won't even know what we missed. Kim and I had talked about the Saturday weather starting on Thursday when we heard the forecast, and we began with "Probably not, but we'll see." Sometimes, in whatever way you understand this, God says "Go now," and there are a hundred reasons that seems like a bad idea. But then those hundred reasons look small next to the thousands of wildflowers…or ten thousand things we would have missed out on in our lives, had we never lived in Nicaragua.
Mostly, I want to remind you–and me–that grey, rainy days may offer wildflowers that the comfort of your chair never will. Literally and figuratively.
And if this isn't strong enough, I'm reminded that my friend Fred Bull would be 42 today.
*Extra irony that people who don't live in the Pacific Northwest think that "Washington State=Seattle." Therefore, they believe we live in some soggy urban rainforest. We always explain, "No, that's the other side of the Cascades. We have three hundred days of sunshine a year." Yes, 300. As my kids would say, "true facts."
**I then proceeded to recount the plot of What Dreams May Come (which is a touch grim) and she says, "Um, I guess so. I just remember the flowers."
***And yes, the plot of What Dreams May Come involved his character's wife committing suicide.