[Paul, Rob, Tom, Mike, and Steve, aka The Guys]
I am one of those fortunate people who still has a close group of friends from high school. My high school had about 240 students. I went from Illinois to California for college and have since lived in Colorado, Washington, Nicaragua, and back to Washington. But in spite of time and distance, these four guys remain some of my best friends in the world.
I want you to know up front, we don't all agree on politics. We don't vote the same. We have some major issues on which we strongly disagree. I won't tell you which of them I agree with and which ones are wrong.
We just spent a long weekend together, easily the most time we've enjoyed in one another's company in years. Make that decades. We gathered in Illinois in January, as any bright group of "young" men would. We did goofy things.* We saw a musical. We drove up to the town where Groundhog Day was filmed. We watched a movie. Okay, the musical and the movie were also Groundhog Day. It was a theme. We played ping-pong, strategy games, trivia games, and, for the first time in my God-not-forsaken life, I won a drawing game. It wasn't a drawing contest, mind you.
This gathering happened for a few reasons. First, one of us had a concerning diagnosis. I won't say more than that. But it woke me up. I like to believe I'm not sleepwalking through my life. I try to practice mindfulness and continuously observe the sacrament of the present moment. But it turns out there are different levels of awake.
We Guys are now "young" men only in quotes. Memes about how middle-aged we are hit home (see left). I don't know what tomorrow holds for any of us. One consequence for me of suffering life-shattering grief is losing the illusion (sorry, it is an illusion) that "it only happens to other people" and "it won't happen to me." I want to hope for the best and I'm as lured by denial as anyone. But part of me knows what none of us want to admit–sooner or later it will happen to us. To you. To me. To these close friends.
Therefore, when we talked about an extended get-together–a discussion we'd been having for a long time–and heard news that one of us has a scary diagnosis with an uncertain prognosis…well, I flew to Illinois. I didn't love traveling while a pandemic still rages, with the omicron variant spreading. I almost chose not to go, largely because of this. I took all the precautions. I'm praying it doesn't get me–because I sure as heck know it can. But I wasn't going to miss this gathering because we have no guarantee of another opportunity. No one promises a "next time." Of course I hope and believe we'll have several more decades of laughing, affirming, and hassling one another (not always in that order). I hope this was our wake-up call to prioritize making these happen. I sure hope to have another weekend during which I'm reminded, roughly one hundred times, how slow** and late I am. Sounds like heaven, right?
As Rob said, "We love you, Mike. We just try not to show it."
But at 53, you don't get to make new friends you've known since you were five, or twelve. I am one of those fortunate, and I will say blessed, people who get to have friends from way back when, guys who knew me when I was a much worse person, loved me then, and love me now, when I'm better but still flawed and ridiculous.
My friends helped make it possible for me to visit. I do, literally, get by with a little help from my friends.
I'm tempted to recount some of the funniest moments of our weekend, but I'll spare you. Honestly, I'm sure it's all much funnier to us than it would be to anyone else.*** Sometimes our wives just roll their eyes at us. Other times, they laugh along. The insults and jokes and 80's references and self-mockery flow almost non-stop. Kim told me "You're gonna need a decompression day after this before you talk to normal people." Funny thing is, several of us easily pass for "normal people" in everyday life, and I know all five of us manage to pass occasionally. But when we're together, for these rare and precious times, we get to be high school buddies again. Not high schoolers. We're not pretending to be eighteen. We're being real–as guys now in our fifties who were also eighteen, and thirty-eight, and forty-five, together.

I hope and pray we can do this for years to come.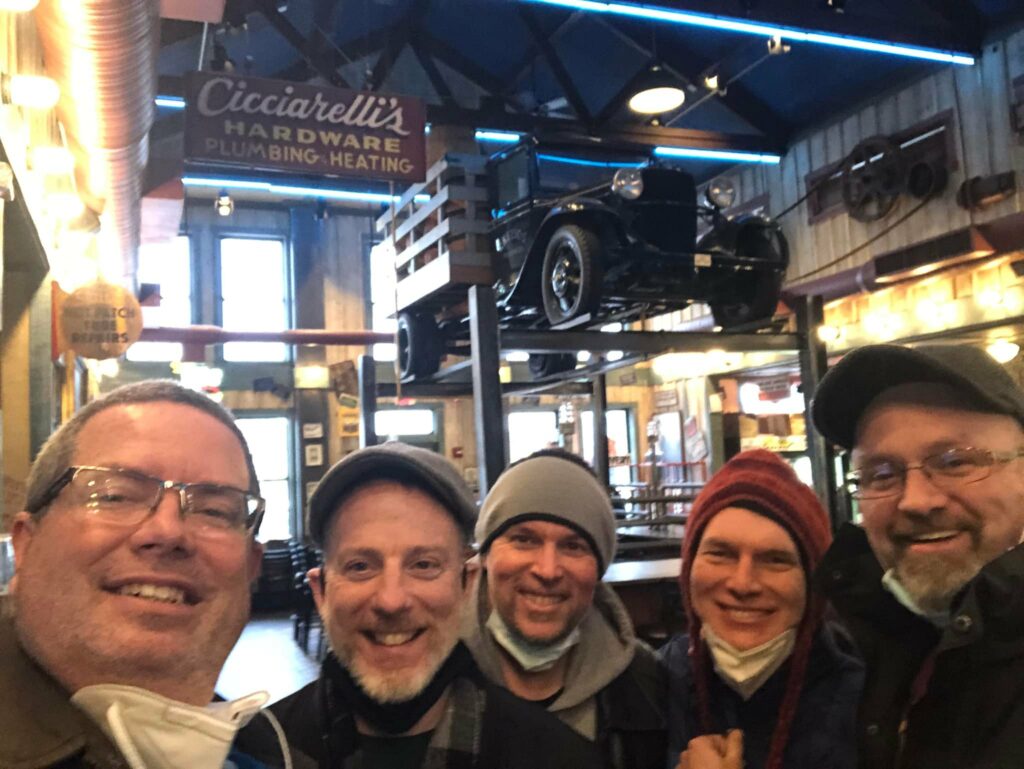 *We also had some deep conversations and spent a couple hours bagging food for Feed My Starving Children, which I loved.
**Slow at taking turns in games. Slow at preparing to depart for anything. Not deragatory of my intelligence. I want to be clear on how I'm being insulted.

***Please note, this was virtually a dry weekend. That's not why we thought it was so funny.