Photos: Periódico Hoy
Nicaragua Diary, Day 8
It's raining again tonight.  My wife doesn't want to go out for date night because she doesn't want to go out in this rain, and she's not afraid of rain.  But it's coming down.  
I don't know if you've thought about it, but one measure of wealth is how much we're protected from the elements.  When we're wealthy, only the most severe weather affects us.  Tornadoes and earthquakes might get you, but very little else.  
I have friends who pile sandbags in front of their home and try to prepare for this season.  If you have a dirt floor and live in a place where all the rain water runs downhill toward your house and it rains 150 inches a year, then the weather always affects your life.  If you have a makeshift roof of scrap metal through which the water leaks and pours, then you're constantly dealing with its impact.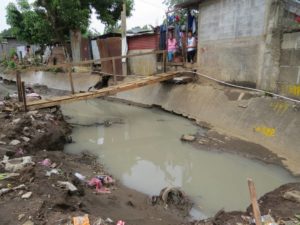 Leaks happen, but the difference between discovering a leak and running to Home Depot the next day versus scouring the debris pile to find a better piece to fit in the hole…  Homeowners insurance, disaster coverage, these make for a much more secure disposition toward a rainstorm, even one that threatens flooding.  
We don't like to think too carefully about how our lives are different than people living in poverty, even less about the specifics of their living conditions.  It makes us feel guilty.  It's much easier to decide that the poor are poor because they're lazy or they make terrible choices or in some other way deserve it.  The people in Jesus' time believed straight up that God loved the rich and disliked the poor.  Otherwise, how can you explain the contrast? 
And to be clear, when I saw "we" I mean you and I, and I live right here.  
But tonight, as I'm lying in my hammock with a cat on my lap (making it significantly more challenging to type), listening to the rain fall on the roof above my head, I'm thinking about what this rain that's been falling steadily for the last several hours might be doing to my neighbors.  I'm wondering what will happen if it rains all night.  It sounds like it will, if you know what I mean.  
And this is part of living in Nicaragua, too.  Things may affect me one way, but for others they mean something else entirely.  Things that do impact me often have much stronger repercussions for those who have so much less.  If food prices go up, we'll have a tighter budget but they'll go hungry.  If it rains all night, we might have some mildew or leaking but they'll have a swamp for a floor.  
That's true for you, too.  What affects you a little might affect someone else much more, maybe disastrously.  Proximity just makes it easier to see–or harder to look away.  
It's still raining.