Friday, a woman's house burned down.
I got a ride home from coaching basketball practice to see a huge pile of black waste material being loaded into a dump truck by a Cat.  We don't see big machinery on our street very often.
"Is that trash?" one of my players asked.
"Or maybe sewage?" I suggested.  We live across from an asentimiento, a squatter village.  Either is possible.
We watched for another minute before I got out.  My wife and young son were there with other neighbors, watching, too.
I came up smiling at them, but no one returned my smile.  Then Kim told me what happened.  Everyone in the asentimiento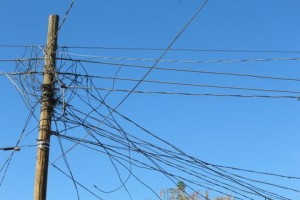 hooks into the power lines and runs electricity, rigged up however they can, to their homes.  The rigged wire had begun to spark and burned her house to the ground.  The destroyed house was across the street from us and two houses back from our close friends.  I walked down to see the site.  The only things left were the brick fire cookstove and some zinc roofing.
 All her other possessions were now that pile of rubble, ash, and cinder quickly getting scooped up to be hauled to the Managua city dump. Two tiny barefoot neighbor girls were darting in and out of the blackened pile, collecting charred bits of wood for their cooking fires.
The woman owned a pulperria, a tiny store in her home where she sold snacks, drinks, saldo (phone credit sold by the minute), a little bit of produce.  The fire destroyed her inventory with everything else.
Kim put together a bag of things for her: toothbrush, toothpaste, a sheet, some clothes, a little food.  When Kim gave it to her, she pointed out a bottle of ibuprofen.
"Oh, gracias a Dios," the woman said, "I'll take some right now."  She has back problems, Kim learned in that moment, and was in severe pain.
That night, we found out that the woman would be sleeping in the wreckage of her home.  She had to, or other people would come and steel the zinc roofing she had left.  When the government workers were beginning to remove the remains–and they arrived two hours after the fire, remarkably fast for where we live–one tried to take a manila envelope he found in the pile, but our good friend grabbed it back and gave it to the woman.  It contained the woman's legal documents.
It's shocking for our sensibilities that, rather than pitying this poor woman, neighbors would come and dig through the remains of her destroyed house and try to steal anything she had left.
The woman whose house burned down has a husband, but he is not with her.  He had already been cheating on her with someone a few blocks away, staying with that woman, and has not come back.
That was Friday.
---
People talk about "First World Problems," and those memes go around the social media circles, and it's kind of funny.  On one level, it's a good reminder to us (I'm definitely part of "us") how minor our problems appear on a world scale.  We should laugh at ourselves and get some perspective and stop whining (that's the message, right?).
If your house burned down, what would happen?  That's what Kim and I have been asking ourselves, as we look at this nice home we rent for $350 a month.  First, it wouldn't just burn to the ground like a lit stack of kindling, because it's not made of scrap wood and cloth.  It would require a horrible fire for us to lose every possession from this home.  Such fires happened last summer in our former home city of Wenatchee, Washington, and they were a nightmare for so many…but as devastated and traumatized as those people were, they had insurance.  They didn't have to defend the remains of their ruined homes the night they watched them burn, or fend off the firefighters from picking through and stealing from their rubble.
I live right next to this level of poverty and I still can't grasp it.  What does it mean to walk away and have nothing left?  It made me think, too, about the Syrian refugees; this woman who lost her house is still in her own community, where people know her and are trying to care for her.  She's still in her own country, where people speak her language.
Her house will be rebuilt, we are pretty sure.  Nicaragua has a socialist government.  When our friends up the street had their house destroyed in a storm, government workers came and built them a new home, more sound than the one they'd had, constructed with real building materials, not scrap.  So that may be one small redemption, though we don't know what she will live off of until then, much less how she could buy more inventory to start her store again.
---
I'd been pondering how to write about the fires and her situation, and then today, Sunday, this happened:
Kim sent an email to a woman who had advertised a refrigerator for relatively cheap.  We have a small benevolence fund, and could possibly help by buying a used refrigerator. But the email Kim got back said, "I already sold it, but then last night God gave me a dream that a woman with a great need asked me for the refrigerator. I think your neighbor is that woman, and I will bring you the money from the sale to give to her."
I don't know how long we will live in this slum.  It's hard on our family and comes with a high cost.  We need to make a wise decision, as God leads us.  But we aren't suffering, not in the sense that we see all around us.  And sometimes, we get the chance to be part of God's love for our neighbors who live in poverty.  Sometimes, we are the go-between when God is giving dreams and speaking to people.  Kim and I are both grateful that God has put us where we can do something to help.
We live in the tension between development and relief.  Relief gets much more attention and is often easier to rally support for.  However, if all attention and resources go to staunching wounds, without addressing causes or prevention, nothing ever gets better–the wounds continue to be inflicted, and the next generation suffers just like this one does, or worse.  
But neither can we say, "We're all about development," because a neighbor's house burned down, and clearly God had a role for us to play in his providence for her.  It's good to be reminded that it's God's Kingdom, not ours, and he makes us his partners in it however he sees fit.  Sometimes that's through redeeming tragedy by sending dreams…and an email.