I like coaching.  I mean, some days I think it will kill me, but it's a worthy way to go.
I coach because I grew up in a small town where the school was the most important thing in the town, the sports teams were the most important thing in the school and the star players were the most important people on the team.  That's too much for a 17-year-old.  When a basketball player buys into that system, his or her value–or lack thereof–becomes tied to success or failure on the team.  Both sides of that are scary.
Some people handle that well and go on to live productive, meaningful lives.  Others peak at 17 and spend the rest of their lives embodying Springsteen's "Glory Days."  But honestly, it's a skewed self-view.  Being a star on one of the sports teams became a life goal starting in about 4th grade.  So my son's age, 9 years old.
Among the consequences of this set of circumstances is the massive power a teenager gives a coach.  If my value in life depends on succeeding on your team, I'm going to do whatever it takes and you become the most important person in my world.  I give you that power, voluntarily, because you hold the keys to the kingdom.
That didn't go well for me; it took me years to recover.  Some moments I suspect I'm still trying to prove myself in response to that experience.  But after a number of years I learned to enjoy basketball again.  I coach because if kids are going to give that much power to an adult, I want to give them a positive experience; I want to prove worthy of that trust.  I also want to teach them that they have much more value than how well they can dribble, pass, and shoot a basketball, even as I do my best to teach them to do these things as well as they can. Competence and character, as my friend Erik keeps reminding me.
Therefore, I think I'm the guy doing the teaching, handing down the wisdom, passing on the life lessons.  I imagine it that way.  Then my players come along and teach me.  Which, if you think about it, is really cool and probably doesn't surprise Jesus that much at all.
This year, Andy got screwed.  Royally screwed.  We play in a Copa (cup) tournament that has an age restriction for our older players.  Specifically, we can have one (1) 18-year-old on the court at a time, which was actually a concession because originally the Copa directors planned not to let any 18-year-olds play at all.  Many high schools here have one grade fewer than we have, so they don't have many 18-year-olds.
We have three:  Alex and Josh, who are co-captains, and Andy.  Andy is a defensive whiz.  He's got this amazing knuckleball
shot that doesn't rotate AT ALL and yet somehow still goes in.  But Alex and Josh are our leaders, arguably our best players,* and they each get to play only half a game max (if I split playing time evenly).  That leaves Andy in a crummy position.  Somehow in today's game (our 13th of the season) I called Andy to go in no less than twice while one of the other 18-year-old was already in.  So then I shouted at Andy:  "Stop being so old!"  But he didn't fix that.
What he has done, from the moment he heard about this restriction, is accept it with grace and an unwaveringly positive attitude.  Andy has played for five years.  He probably wouldn't be a starter this year–we have a lot of talent–but likely he would be 6th or 7th man.  Instead, he mainly gets to play when the outcome of the game is decided.
I have not heard him complain.  Not once.  When we had a situation in which the 13th man on our 12-man roster, a player who hadn't been able to play all season (more restrictive rules) would only get to play if someone volunteered not to be eligible to play in a game at all, Andy was the first to volunteer.*
Now, besides the contrast between who Andy is at 18 and who I was–I won't belabor this point, but let's just say you'd take Andy unless you really enjoy angry, self-centered, dysfunctional teens (and some do)–I've been watching Andy and taking figurative notes.  This is what it means to have a servant attitude.  It's not about me, it's about building others up.  Give my all even though I'm not going to get the glory.  The cool part is, though Andy won't be our MVP, he will become a solid, mature, godly man because he is already a solid, mature, godly young man in many ways.  He has responded to this test with grace, humor, and good cheer.  He's kind of my hero at the moment.  Don't tell him.  I don't want to swell his head.
Then there's Gabriel.  Gabriel started playing basketball for the first time as a freshman.  He appeared never to have touched one before.  And then something magical happened.  He was tall and awkward and in his very first game got 19 rebounds.  I said "nineteen."  He had remarkably good touch when he shot.  He played really hard and smiled while he played.  In one game, against our arch-rivals and down by two, he hit two free throws with time expired to send us into overtime.
Then Gabriel injured his knee playing US football in PE.  I mean, really screwed it up.  I won't give you this whole saga, because I don't want to steal that chapter of his autobiography, but he tore ligaments and was misdiagnosed and misdiagnosed again, tried to rehab it without surgery, had a surgery that didn't fix it, another, and, if memory serves, another.  "Saga" really is the word.  He lost virtually his entire junior season to injury.  It would get better, he would play tentatively for a while, and then would re-injure it.  He once injured it simply jumping–it got hurt while he was up, not from making contact with anyone else nor from coming down.
Yes, I know, he might have just stopped playing basketball at this point, but he was really good and he loved it.  He could have been an amazing high school player if he hadn't suffered this injury.
So, then, during his senior year, Gabriel started a basketball program for an orphanage here in Managua.  I want you to get this: instead of letting himself get embittered from losing this joyful activity in his life, he organized–and worked his butt off fundraising, recruiting, and planning for–a program to share it with 80 super-highly at risk kids.  These were/are not easy kids to work with, but Gabriel rallied a large corps of his friends to teach and coach them to play basketball and introduce them to the Kingdom values we have grasped that undergird playing sports.
I'll say this for Gabriel: he made writing his college recommendations really easy.  Gabriel graduated from here last year and handed the program on to his friend Alex (yeah, co-captain Alex) who directed a very successful second year and there are already plans in place for it to continue next year.
I'm happy to report that Gabriel managed to have a decent senior season.  It was still touch and go, and he never really could go hard on that leg for long stretches, but we were all so grateful that he got to play as much as he did.  Sometimes it's not winning or losing or how you play the game–sometimes it's simply getting to play.  I'm also happy to report that, at long last, Gabriel this year underwent the full knee surgery he needed the whole time and has recovered very well.  That's another cool story that I won't steal from my friend.  (Well, I might in another blog post.  No promises, Gabriel.)
There are a bunch more, of course.  Two years ago, Captain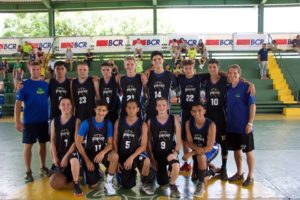 Derek astounded me both his dedication to conditioning and preparing for the season and with how little homework he could do and remain eligible for every single game.  Kelsey, whom I'd adopt if his actual parents didn't love him so dang much.  Jacob, whom I love dearly, reminded me that faithfulness is simply doing what you can, as well as you can.
And then there's Alex.  Until you've seen Alex play basketball, I doubt you've really seen what it means to play with joyful abandon.  If you love sports, you should watch Alex play basketball.  He wouldn't be the best player you've ever seen but he would be the player giving the most you've ever seen.  Is that hyperbole?  Come and find out.  We've only got two games left.
Alex makes everyone else play harder because Alex plays harder than everyone else.  He raises the intensity of the game when he steps on the court.  He makes drives that look physically impossible and the ball still goes in the basket.  I have never counted how many times he hits the floor during a game, but I'm guessing double-digits.  Every game.  He dives for every loose ball.  He flings himself to block or intercept passes and lunges for steals.  He goes up for layups against ridiculously bigger players and gets knocked flying–then pops right back up, clapping his hands.
My philosophy of basketball, as I mentioned last time, is all-out effort all the time on both ends of the floor.  We play a full-court press defense most of the time.  We don't wait for the other team to come score on us; we attack them.
Now here's something I need you not to tell Alex, because Lord knows he thinks enough of himself already.  Our team talks about the fine line between confidence and arrogance.  We're trying to keep him on the correct side of that line.
Alex has exceeded my expectations for all-out effort.  I think of myself, in every sport, as a guy who gets all he can out of what little he's got.  I hustle.  Even at my advancing age and diminishing speed, I try always to play like this because that's what my dad taught me: "Outquick 'em."  And because I always see myself as the underdog.  And because in high school–oh, wait, I covered that.
But Alex takes it to another level.  I taught this philosophy when I started coaching and then Alex showed me what it actually looks like.  I love sports and I'm going to tell you, to me it's beautiful.  But the best part is, Alex plays this way because he experiences joy through it.  Maybe not "fun" every second, but joy.  Satisfaction.  Deep down love for giving his utmost effort and doing everything he's capable of doing on a basketball court.***
There's more I could say  about Alex, but I don't want to make his girlfriend jealous.
It's not as if I've been coaching for decades.  I'm not even sure how long I'll last.  But it's worth it.  The kids have certainly taught me a lot so far.
*I have literally never heard our roster of players argue about this, nor even mention it, except as compliments for one another.  I do love these guys.
**Jono immediately volunteered and then said, "Andy, you're a senior.  I'll do it."  I'm telling you.  Character.
***Except for practicing free throws for the past four or five years.  But we all need shortcomings or we become totally obnoxious, right?