Sometimes I get so busy living life, I don't have time to write about it.  
Five of the last seven blog posts I started are still in the "draft" folder.  We've had graduations and birthdays and THE CENTRAL AMERICAN GAMES and a near-collision with a motorcycle and an actual collision with a truck (no one injured, but my poor car!)* and, oh yeah, the newest Star Wars movie!  
In the midst of all this, I'm spending lots of time with my kids and wife who are on vacation as we soak up this (relatively) cool weather in Managua–it's raining tonight, the 22nd of December, well into dry season.  It's actually hit the 60's! Crazy.
So I might have to post retroactively several entries in the Nicargua Diary because great stuff has happened and I want to celebrate it.  
But on this Winter Solstice, I'm going to free associate.  Stream of consciousness.  Merry Christmas.  
The best part of celebrating our 7th year of Christmas in Nicaragua is that we left behind Materialism Christmas.  We've successfully lowered expectations of what we should get for Christmas, without weeping and gnashing of teeth.  All of us. No gnashing.  
The second best part of celebrating Christmas in Nicaragua is that the season feels more sane.  Less frantic and rushed.  We're just moving at a slower pace, for which I'm very grateful.
---
My wife, whom I have mentioned once or twice is mighty, will be going to Estelli for the week after New Years for an immersion Spanish class experience.  She speaks great Spanish but keeps trying to get better. Esteli is north of Matagalpa, which is 3 hours north of here. 
---

A young girl from our barrio, a dear friend of ours, is going to college next year!  An intensive English-acquisition program, 8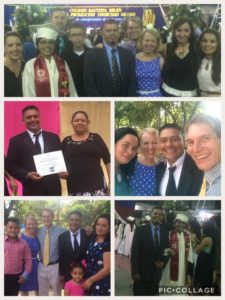 hours a day for a school year, which is not her end goal but is a great first step.  How many kids do you think go to college from our barrio?*  
At thirty-three and through great perseverance, Juan Ramon,possibly my best friend here, earned his high school diploma.*  Now that was a celebration!  
---
The Nicaragua Women's Volleyball Team, down 2 sets to 0 to Costa Rica in the Central American Games gold medal match, gave perhaps the greatest comeback effort I've ever witnessed first-hand at a sporting event.  After being demolished in the first set 10-25 and going down a second set, they won sets 3 and 4 over a team that was much bigger and clearly stronger, and led 9-6 (or 10-7?) before losing 12-15.  We cheered our voices and hearts out.  It was crazy like a rock concert.  
The glory of this was feeling the crowd uniting to cheer for their team, their fellow Nicaraguans.  Nicaraguans, especially poor Nicaraguans, do not, culturally, have a positive self-image.  As a friend pointed out, this self-identity change slowly.  The Central American Games, and within those even this match, felt to us like a small but significant step in the right direction.  This isn't even mentioning the tensions between Nicaragua and Costa Rica.  We celebrated the first time Nicaragua hosted the Central American Games and Nicaragua's coming in second in total medals behind only Guatemala.  
Bonus:  Nicaragua won the gold medal in baseball!  
---
The new Star Wars came out!  
The new Star Wars came out!  
THE NEW STAR WARS CAME OUT! 
THE NEW STAR WARS CAME OUT!
Yeah, there are lots of flaws.  When I started writing my blog post on it, I was critiquing a lot of what they did.  It's not my favorite Star Wars movie.  I don't think it's the best one.  
If you weren't a kid when the original came out, it may be hard to grasp how much we bonded with this movie, how big it was in our lives…and how big it remains.  I'm happy our children have embraced this joy.  My kiddos and I had been counting down the days for months.  I consider this a parenting success!
---
Every day is a battle for hope.  Every. Day.  
I was talking today with a great friend about how good it feels to make a difference, even a small one.  Going in the right direction toward making a difference is a big deal.  
We agreed on this shocking conclusion: the world is so bad, trying to make a difference, trying to help in any way is worth it, even if you fail.  
If your life is not a battle for hope, if you are comfortable and things are going well and it's easy: rejoice!  Give thanks!  Be grateful!
Then step up.  
Pray, then step up.  
*This is an excellent article on child poverty, child labor and education in Nicaragua.  Some excerpts:
"Compulsory education is one of the most effective ways of combating child labour, according to the ILO. In Nicaragua, children are only obliged to attend school until 12.
Only 72% of children finished primary school in 2009, the latest year for which data is available.
This low figure hides even bigger inequalities as only 65% of children from the poorest 20% of families completed primary school compared to 98% from the richest homes.
On the poor Atlantic coastal regions where Bluefields is situated, just 58% completed six years of primary education.
The Ortega government has prioritised spending on primary and tertiary education, so secondary school figures are unsurprisingly much worse: 46% finished the first tier (9th grade/year 10), and only 19% completed 11th grade (year 12). In the poorest families, only 6% of children finished secondary school."
This final number is what we're looking at.