I meant to finish this series yesterday, but we had a little family getaway.  For that, I'm thankful.
My first three posts have been about all the things for which I can be thankful:  good things, hard things, past things. I hope they've encouraged you to remember and share your own.
Finally, I'm thankful for moments of grace.  Henri Nouwen, perhaps my favorite author on spirituality, writes in Life of the Beloved,
"When we claim and constantly reclaim the truth of being the chosen ones, we soon discover within ourselves a deep desire to reveal to others their own chosenness. Instead of making us feel that we are better, more precious or valuable than others, our awareness of being chosen opens our eyes to the chosenness of others. That is the great joy of being chosen: the discovery that others are chosen as well. In the house of God there are many mansions. There is a place for everyone – a unique, special place. Once we deeply trust that we ourselves are precious in God's eyes, we are able to recognize the preciousness of others and their unique places in God's heart."
This is worth repeating:  "Once we deeply trust that we ourselves are precious in God's eyes, we are able to recognize the preciousness of others and their unique places in God's heart."
---
I ran the 800 meters and the 3200 meter relay in high school.  (Do they still run the 3200 meter relay?)  I was not great, but I had some pain threshold and after failing at high school basketball, track was important, my chance to salvage a small part of the image I had so desperately wanted to create for myself.  At our conference meet, I came in fourth in the open 800 and our relay team won, which meant we qualified for the big sectional meet.  I ran first leg. Our track was cinder; their track was composite.  I'd only run on rock and dust or mud.  This felt like a trampoline.  My adrenaline was redlining before the gun.
Oh, and we were staggered for our starts.  Our team was in the eighth (i.e. last) lane, which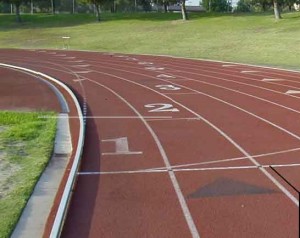 meant I lined up WAY out in front of everyone else before we started.  In this race, we didn't have to stay in our lanes the whole way, just until we hit the first curve.  Then everyone was allowed to collapse into the first lane.  Meaning, if I could get there first, our team would be winning.
I got there first.  I sprinted to the first curve and then I was in the lead, so I kept on sprinting.  I was still in the lead when I came up on the end of the first lap.  As I approached, I heard the timer shouting "Fifty-two!  Fifty-three!  Fifty-four!"  If you've ever run a distance race, or know about distance races, you might have a bad feeling about what is coming next.  I ran the fastest 400 I'd ever run…but I still had 400 to go.  And I died.
I'd been running distance for four years, from two mile to 800 meters, and this was the first I really experienced rigor mortis.  That sounds so scientific and fascinating.  It wasn't.  My quads locked up.  I was still telling my body to run, but I felt like I was moving in slow motion.  I could see the bleachers on the other side of the track.  I could hear people shouting for me.  I could watch the other runners pass me.  Almost everyone else ran past me.
When I finally lumbered in to hand off the baton, we were in seventh.  I stumbled off the track and collapsed in the infield to watch my teammates run.  We didn't catch up.  When we finished, I limped over to them and told everyone I was sorry.
Then I started throwing up.
I threw up thirteen times.  I mean, thirteen distinct times I started vomiting, eventually stopped, calmed down, cleaned up…and then started again.
Remember, this is high school.  Any perceived failure is humiliating.  My failure was not just perceived, in the sport that was supposed to make up for the sport I'd failed at, and now I couldn't stop throwing up in front of everyone.  I managed to drag myself to the restrooms.  M dad came to try to encourage me.  I wasn't receiving much encouragement that day.
I filed that memory under "humiliation."  It came out uninvited sometimes, usually when I was already feeling bad about myself.  Then, a couple years after I graduated from college, I was talking with my dad on the phone.  That race came up, for some reason, and I made some self-deprecating comment about making a fool of myself.  Dad ran track in both high school and college.  I still have an article from a Chicago newspaper that describes how he caught up in a similar relay when he had started almost a lap behind.  He got quiet on the phone–a rare occurrence–and then said, "That was the bravest thing I've ever seen."
---
When I was first out of college, I went to an Episcopal church.  The church had a men's group, and the men's group had a "Men's Appearance," which began at 6 AM on Saturday morning.  Maybe it was 7 AM, though it also might have been 5.  It was early.  I was a recent college graduate, now trying to hold a job and keep regular hours,  But for some reason–probably that I was about 16 years from learning to say "no" and desperately wanting to impress the older men–I agreed to bring some of the food for the breakfast we would share after our meeting.
The phone rang.  I was trying to crawl up out of a dead sleep to figure out what day it was, why the phone was ringing, and how I could make it stop.
"H'lo?"
"Hello, Mike.  Are you coming?"
Then I got it: I'd missed my alarm, the men were meeting, and this was the call to tell me I'm late; I'd failed.
I hurled myself out of bed, ran to the kitchen of my tiny apartment, and I didn't even have a car yet, so I also go to run to the church, with milk and eggs swinging alongside, using language in my head not well suited to the place I was going, mostly directed toward myself.  These men tended toward sarcasm and I was about to provide a feeding frenzy.  I decided I would drop the food in the kitchen and get out before anyone else could take a turn with the lash I was already flaying myself with.
But of course the building with the kitchen was locked, and I couldn't really leave the grocery bags out on the sidewalk.  So, knowing what was coming, I went in.
The men were getting into groups of two or three, maybe to pray together or discuss the part I'd already missed.  The first man to approach me was Richard.  I stared down at the carpet and muttered something apologetic and guilty.
He looked me in the eye, put his arm around my shoulder, and said, "I'm really glad you're here."
---
When our son died, we were in Illinois, though we lived in Colorado.  It was a long time before

we got back to Colorado.  When we finally did, they had a memorial service for Isaac.  Even though it was the beginning of the Dark Tunnel in our lives, and many of my memories from that time are dim, I remember the service very clearly.  I remember who spoke and what they said.  I remember talking with people afterward.  I remember a few people trying to give us "answers."  And I remember this:
A woman named Lisa, a friend though not one of our closest friends, even in a place where we had lived only a year, was waiting for me as we were leaving.  She was sitting in the entryway of the church because she wanted to say something to me.  Most everyone else had already left.
She looked at me and started to cry.
"I am so sorry," she said.  We cried together.
---
Moments of grace often come at our worst times.  My examples aren't equally bad.  A race I ran in high school?  You're right, even I'm over that by now.  But Dad's words transformed what had been a painful, humiliating memory into something else entirely.  Was it literally the bravest thing he'd ever seen?  I doubt it.  But he remembered it that way. In so doing, he transformed that memory into: my dad was proud of me.
Richard reminded me, when I couldn't see it, that I mattered.  He made me know that I was more important than my screw-up.  In that moment, I experienced being "precious in God's eyes," as Nouwen described.
Sometimes it's impossible to feel God's love.  Sometimes the walls fall down and the roof caves in and crying for help doesn't change anything.  Jessica couldn't take away the pain, but she entered into it with me.  In all my time of grieving, that was the best anyone could do.
These are a few moments of grace I've experienced.  I know God loves me because people have shown me that love through moments like these.