Nicaragua Diary, Day 107
Today has been a great day.  I don't know how many great days I have.  Not as many as the struggling days. I embrace the struggle and try to share it openly, even when it sucks, even when I might throw some people with the depth of my inner turmoil, because I know there are others who need to know they're not alone in that fight.  
But today, I'm going to tell you about my great day!  
Corin got baptized today.  That was, undoubtedly, the highlight of a great day.  We'd been talking about it for a while and he had expressed interest, but we were giving him space to make up his mind.  As I was sitting in church, waiting for my time to preach (meaning sitting there with my stomach going crazy and trying to focus on God and breathe deeply), Kim pointed out the door and said, "Go talk to Corin" in her serious Mom voice.  
Okay. Corin's in trouble.  In trouble for what?  No clue.  
So I'm out in the corridor with Corin and I have to ask, "What did you do?" because I'm responsible to take care of this.  
"Dad, I've decided I want to get baptized today."  
Ohhhhh!  I almost start laughing out loud, which if you've heard me laugh, you know isn't the best idea within 100 feet of a worship service in progress (or is that yards?).  
Shift gears.  Move nerves to backburner.  Laugh with son quietly over misunderstanding.  Get serious and talk about baptism.  
He gets it.  He really has made up his mind.  We talked a little about what baptism means, about how going under water symbolizes not just being cleansed, but dying with Jesus and then being raised to life with him.  We talked about why we need that.  He got it.  
Some part of my brain thought "how did we get here already?"  But I'm thrilled that he means it, that he's ready.  For all our kids I've trusted that they would know when it's time and I've never wanted to push them.  What we want to do and what we do as parents are sometimes different.  For this one, I've really tried to be careful; making someone get baptized makes no sense.  
So I got to tell a couple of the other elders quickly and then I preached.  I've posted quite a few sermons here but I don't think I've ever described the experience of preaching.  That needs to be its own post.  I preached on Isaiah 58, the Kingdom of God and breaking chains.  I preached hard today, perhaps the hardest I've ever preached.  By that I mean I may have expressed what I understand to be the truth more forcefully than ever before.  That's a little weird and I felt strange afterward, but encouraged, as well.  God always sides with the oppressed and calls us to take their side, too.  Impoverished people's bad choices are not the sole, nor even the main, cause of poverty.  I said some other stuff, too.
The people whom I knew would like it told me they liked it and the people who didn't like it didn't tell me.  
Then we rushed home to get clothes to get wet in, because I didn't dress for preaching and baptism.  
The baptism was beautiful on so many levels.  Nine kids and Corin's teacher got baptized today!  Each one is a story in itself, of course.  I got to stand in the water with my friend Dave while he baptized his son who miraculously survived a horrific head injury earlier this year.  
And we baptized Corin.  When asked if he believed in God, Corin declared, "Absolutely!"  When asked if he knew that he needed forgiveness for his sins and if he had repented of his sins, he carefully parsed the questions, answered, "Yes…and sort of."  Everyone laughed, of course.  But you know, I'm going to argue that, though not the classic answer, my son gave the theologically and pastorally astute answer.  Have I repented of all my sins?  Not do I desire to or would I like my heart to be in a place where I have, but have I?  
Sort of.  
So we laughed and then we dunked him and prayed and rejoiced.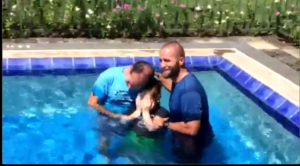 We finished up the baptisms and the kids all swan dived (swan dove?) back in the pool and started splashing around.  Then a twenty-seven-year-old, a friend of one of our elders, decided to get baptized, too, right there and then.  He'd been thinking and praying about it and said, "Okay, it's time."  Like I say, I think people know when it's time.  He did.  So we did!  
Afterward, we headed home, I snuck in a nap*, then zoomed off to play ultimate.  I love ultimate.  I got to play with some Nicaraguans I love and love to have as teammates, notably Zeke and Andy.  I've talked about Zeke before.  Andy is a 15-year-old rockstar ultimate player who should get a full ride scholarship to play college ultimate…when such things exist.  We had a mighty comeback victory in which I made a pretty decent layout (diving) catch for an old guy.  Then we got trounced but still had fun and made some good plays.  No kidding, I love ultimate.  Oh, and Aria and I got to play together.  I love playing ultimate with my kids!
We zipped home, cleaned up, and hurried back to our annual International Christian Fellowship Thanksgiving Celebration,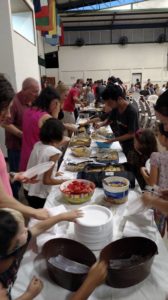 always held the Sunday before Thanksgiving, always one of our two biggest events of the year.  I emceed, which is not my gift.  I'm a better preacher than an emcee.  But it went great.  Hundreds of people, gringo and Nicaraguan (mostly gringo but a good number of Nicaraguans), feasted together on traditional Thanksgiving food, sang of God's faithfulness, shared around the table about what we're thankful for, and a few gave testimonies, including a poem of gratitude to a loving husband and a journey-in-progress of a young woman whose sister is recovering from cancer.  
It was a beautiful day.  Corin and I prayed together at his bedtime and already his prayers are more mature.  We pray together almost every night.  I'd never heard him pray like this before.  He's thinking beyond himself, bigger picture.  
I thought my cup was full and seeping over the sides.  Then a dear friend I've mentored for years wrote me and overflowed completely.  Mentoring is a painful joy and a joyful pain.  You invest your life in someone and become invested in their progress.  You remember the bigger picture but you also suffer the ups and downs.  Yes, like parenting, but different, too.  
Here is joy:  "I forgave people who hurt me, I reconciled, I made deeper relationships with others who will encourage me to seek God with my whole heart.   And oh, yeah! God used me in this crazy way to bless a guy I just met whose estranged father recently died but turns out I knew the father through work and could tell the guy about his father things he would never have heard otherwise!"  
I officially declared him a Jedi.  That cool.  That nerdy cool. 
I love mentoring.  The best part, the very best part is when you get to step back and say to a guy who used to be a lost, confused kid, "Okay, adult to adult, father to father, friend to friend, you are there. You are living this life to the fullest, God is bursting through you, and I'm just grateful to have seen it all up close."  That was this weekend.  That was tonight.  
In the midst of this, I cannot fail to say, Kim once again demonstrated what an incredible wife and partner she is, what a servant and mighty woman of valor, and I'm reminded how lucky/blessed/freaking fortunate I am to have her in my life.  
Tomorrow, my self-doubts will come crashing back in, I'll dig in, pray hard, and return to the daily battle.  There will be small moments of grace and some ugly reality I'll need God to overcome.  That's fine.  That's life on this side.  But today?
 Today was beautiful.  
*Did I mention I slept very poorly the night before?  It's kind of my normal now, but there are more and less convenient days for my insomnia.