I am not a Cubs fan.  I have not earned the joy that they are experiencing this October.  I am not a Die-Hard.  I have never said, "Wait 'til next year," except sarcastically.  I chose not to be a Cubs fan at a very young age, when I was first starting to pay attention to baseball, because they were terrible.  Inept.  "Lovable Losers," my dad* called them. I didn't want any part of that.  I wanted to be a winner and cheer for winners.
I think that's an understandable sentiment at 8 years old.  With the added perspective of 40 years,
I see some flaws
in it.  But I'm not holding those against my eight-year-old self.  When I was 8, my t-ball team was the Yankees.  I had a light-blue shirt with a hand-ironed "Yankees!" (with exclamation point) in those iron-on letters that my mom ironed on for me.  I was just getting into baseball.  I went from, the year before, going out into the field carrying my toy rubber mouse, Ralph (from Beverly Cleary's
The Mouse and the Motorcycle
) in my baseball glove to, the following season, wearing a batting glove, keeping track of my hitting statistics, and caring very much if we won or lost.
---
That was summer of 1977.  Then in October of 1977, Reggie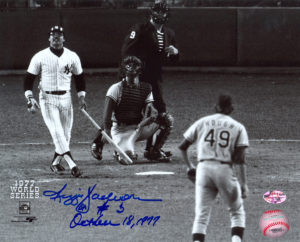 Jackson became Mr. October.  I was just tuning in to Major League baseball for the first time, about to turn nine, and my dad
said, "Watch this, he hit a home run his last time up."  I watched.  He hit another home run.  By the time he came up again, I was paying attention.  I was excited.  Could he?  Yes!  He did it again! Not just three home runs in three times at bat:  three pitches, three swings, three home runs!
---
And that was it.  I was hooked.  A Yankee fan for life, no better justification than a T-ball team, a shirt, and Reggie's display of power.
 '
–I know, I said this is a letter to Cubs' fans and I'm writing about the Yankees.  I'm done.  I won't write more about them.  But I had to give you the background for why I feel the need to write to you.
 –
One of the values I developed early and hold just as strongly now can be summed up thus:
NO BANDWAGONING!
Period.
'
I've always considered this a transcendent and absolute value, based on absolutely nothing other than my own opinion.  No matter how bad your team is, no matter how long, no matter what a ridiculous oaf your team's owner is or how heartbreakingly pathetic their bullpen, you stick with your team.  You may not watch every game or even pay close attention in horrible years, but you stick.  It's my own view of loyalty.
 '
Unlike with theological beliefs, which I firmly believe must be rooted in something a little firmer than "I believe that because I believe that," I'm perfectly comfortable with this opinion.  I'm also old enough to know that people may disagree.  They may feel fine skipping around switching teams every season.  They may move from Boston to Seattle and commit to the Mariners instead of the Red Sox.  While I know in my bones this is wrong, I don't know it's wrong in a politics-on-Facebook sense, in which people feel compelled (or impelled) to convince any who disagree of their wrongness.  If you do this, I won't call you on it.  I may mock you, but if we're friends, that's going to happen, anyway.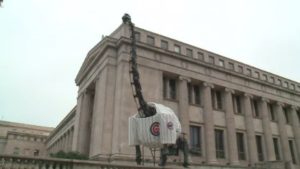 ---
This bring us to 2016, The Year of the Cubs.  I've been joking since about May (or March) that The Apocalypse is Nigh, finish your bucket list, the world is about to end when the Cubs win the World Series.  I also held my breath through their losing patch, when they lost four, won 1, then dropped 5 more in July.  They followed that by going 10-6 and then ripping off their 11-game winning streak in August, which probably erased most doubts that they had any plans to choke this season.  The farthest behind they were in their division this season?  One game.  Honestly, I've been rooting for them the whole way and, as a confession, I've probably paid more attention to the Cubs this year than to the Yankees.**
---
I'm trying to say this:  I love this Cubs team.  They're a blast.  They're hilarious and full of themselves just enough to think they can do it, no matter what.  You gotta be to score four in the top of the 9th against the Giants in the game that could have evened the series and eventually sent the Cubs home.  The Giants thought they could win that and they had history and rings on their side.  They had to be convinced otherwise.  So the Cubs convinced them.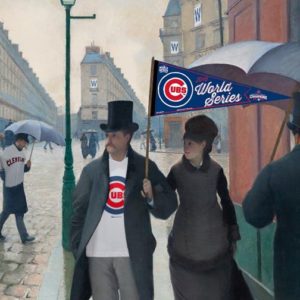 ---
But they're also just plain fun.  They're funny, they pull stunts on each other, they say great things in interviews like "I was just trying to get on base, Man!"*** and "I'm not a cleanup hitter, I'm just batting fourth."****  And they play baseball right!  They beat out infield hits.  They dive into the stands for foul balls.  Or in the case of Anthony Rizzo, make acrobatic, impossible balancing-hopping-lunging off tarps and ledges catches–and if you watch these, which you really should, look at the faces of the fans after he makes these catches, and at his smile.  The Cubs are having fun playing baseball and they're making baseball fun.  Even if you're a lifelong, committed Cub hater (did I say, "Cardinal fan?"), I hope you can still admit that this is the way baseball was meant to be played…and the only way it should be played.
'
There's so much more.  Like
Kyle Schwarber's story
.   I'm not the expert and I'm not trying to give any comprehensive report on their season.  If you're a baseball fan, I hope you've been paying attention, because it's not one to miss.  If you're a Cub fan, you're in heaven.  You gotta be.
---
I'm not a bandwagoner.  I'm not becoming a Cub fan.  I will never change teams.  The Yankees were one of the best things my dad and I had between us–he liked them only because I did–and he's gone now; I can never change teams.
---
If the Yankees were playing the Cubs in the World Series, I would of course be cheering for my team, but I would be torn, and that is an amazing thing for me to say (I still know Ron Guidry's ERA from 1978).
---
I was watching Game 2 of the World Series with my son, who  is 9.  We were cheering for the Cubs, of course, and got really excited when they staged their fifth-inning rally that effectively clinched the game.  We shouted when Zobrist tripled.  We roared when Schwarber singled him home.  And then I explained what happened when Russell walked Schwarber home.  We haven't watched that much baseball together, but we went to a few games while we were in the States over the summer and he loved it.  It occurred to me that he may be bonding with the Cubs like I bonded with the Yankees. I'm taking that risk.
---
So thanks, Cubs fans, you true and loyal Cubs fans, for letting me share in your excitement this year.  This is yours, not mine.  I am enjoying this vicariously, alongside you, through you, and for you.  I am enjoying your enjoyment.  You deserve this for your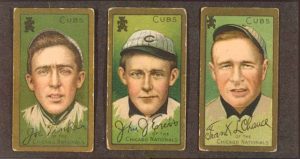 years–decades–half centuries
—
WHOLE centuries
of loyalty!  Thanks for letting me come along.  Thanks for letting me add my comments on your FB celebrations without saying to me, "Hey,
you're
not a Cub fan!"
---
 I'm not.  But I'm a baseball fan, and this is beautiful baseball.  Plus, a bunch of my dear childhood friends are Cubs fans–I did grow up in Illinois, which will do that to you–and I'm rooting on behalf of all of you:  Weinrich, Carla, Steve, Daron, Matt, Sharon, Dan, Ann, Rhonda (forgive me if I forgot anyone) and my  Jennifer, brother-in-law, Tim, who has said, "Wait till next year" with a smile on his face, and meant it, up until this year.
---
This is the year.  The series is 1-1 right now, going back to Wrigley.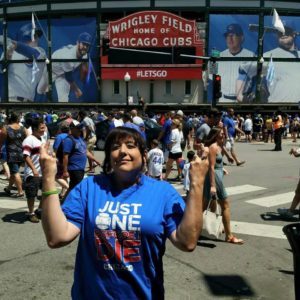 ---
Go, Cubs, GO!
*Dad had a love-hate relationship with the Cubs, or perhaps scorn-hate.  We listened to all their games on WGN and he would follow–and then complain how bad they are.  I think he liked them, but he would never admit that. He mostly referred to them as "The Scrubs."
'
**The Yankees were bad: six games above .500, 4th place, showed up just enough at the end to get wild card hopes up before getting swept by the RED SOX (grrr!) and choking until it was out of reach…then sweeping Boston when the latter had already made the playoffs and were playing their subs.
 '
*** and **** Javy Baez and Ben Zobrist, respectively.