There are posts I feel I must write and others I really want to write. This one is both.
Saturday, Tad and Pam got married. So maybe I can die happy now. Perhaps I can die content. At the very least, one of my most desired and long shot bucket list items got checked off, and better than I ever dreamed it would. Oh, me of little faith.
I wrote an entire post about Tad three years ago, on his 29th birthday, because he is perhaps my favorite redemption story. You should probably read that one first to appreciate what has come to pass. I know Tad much better than I know Pam, but Pam is a person whose soul you see immediately. I don't mean she's superficial; I mean the opposite of that. Some people, you see the externals they put forward and maybe, eventually, you get to glimpse their souls. Some people, you have to remind yourself they do have a soul in there. But for Pam, from the first time I met her a couple years ago, I could see her depth, not because she shows that off, but because it simply shines through. She's soulful.
Tad and Pam had their wedding in the woods. It was a camping trip and a party and a wedding ceremony next to a stream where salmon were struggling and spawning and dying right behind us, literally as Pam and Tad exchanged vows. The symbolism could not have been more perfect.
Life.
And death.
And life again.
The groom was helping construct the cake an hour before the wedding (was supposed to have) started. Picture six layers and frosting trowels. It came out wonderfully. It's possible there was a separate cake with different ingredients. If so–and I confirm or deny nothing here–that cake may have been color-coded with green frosting.
There may have been a few hiccups. There may have been an item or two that didn't arrive. We may have spent a little while tracking down the rings. It's possible that someone forgot his vows and had to run back to the yurt and get them (a little under a mile–in the woods, remember?) just as the ceremony was about to start. It's also possible this was the most beautiful wedding I've ever done.
A writer's job is to make it so you didn't "have to be there" to be there. For Pam and Tad's wedding, I feel challenged to accomplish this. Some descriptions would break confidentiality while others would defy credibility. Some of the best details I simply can't share; they have to stay at Pam and Tad's wedding. Let go of the image of theme colors or bridesmaid dresses. The bride and groom, in their wedding attire, shucked oysters for
the guests. Some of the superficial things might have caught your eye. One guy was wearing a full-body fuzzy onesie that included a hood with ears. I thought, more than once, "If all these people walked into a church, the regular attendees might feel a touch unsettled." I would pay to see that happen. My guess is, most of them don't.
But I want you to understand that a wonderful, unusual community of people gathered, who didn't care if they got their shoes a little muddy, who likely hadn't bought their outfits at The Gap, who were happy to carry chairs down a trail or sit on logs or stand for the ceremony, who came together to celebrate two simply amazing and profoundly fascinating individuals who love each other with their whole hearts. Tad is a former World Champion Oyster Shucker. Pam is the guitarist for the band Post/Boredom. That doesn't scratch the surface for either of them. They wrote the best vows I have ever heard in my life. Kim and I felt bizarrely normal* in this setting, which is not a sensation to which I am accustomed. I also felt, for a moment of my nearly 51 years, that I had walked into precisely the right place at the right time. I was the guy to do this wedding.
Speaking bluntly, I never thought I would see this day happen, because A)I wasn't certain Tad would live long enough to get married, B)I'm not sure I believed Tad would grow into the man whom Pam would want to marry, though I certainly prayed for it, C)in my wildest dreams, I didn't picture the Sternin-Stearns being so well-suited for each other. When I say that, I don't mean "the myth of the perfect match," where you find someone whom you make perfectly happy just by being you, who makes you equally happy with no effort involved for either of you. I mean they are perfect for each other in how committed they are to each other's happiness and to loving each other, in how much they get each other. I mean loving Pam has made Tad grow into the man he could be and now is. I mean a guy whom I wasn't sure would survive himself or live to see 25 is now the perfect match for a woman who thought she would never meet someone she could commit to for life.
I broke one of the cardinal rules of weddings by asking the bride and groom a spontaneous question in the middle of the ceremony. But we weren't exactly sticking with tradition for every detail.
"What do you love about the other person?" They kind of froze up for a moment or two. They were both pretty emotional. There's a reason you don't do this.
"Her patience," Tad said, after a bit.
Pam had a harder time answering, not because she couldn't think of something but because she was struggling to speak. I had a moment of wondering if I'd completely screwed up.
"How he's always there for me, every day and every night," Pam said.
How did Tad become the man who could fit that description? How did Pam see that in him and help bring that out? How did Pam realize about Tad, "I'm the lucky one to be with you?" which is also completely true. How did we find our way to a world where Pam and Tad could recognize each other and know, "You're the one."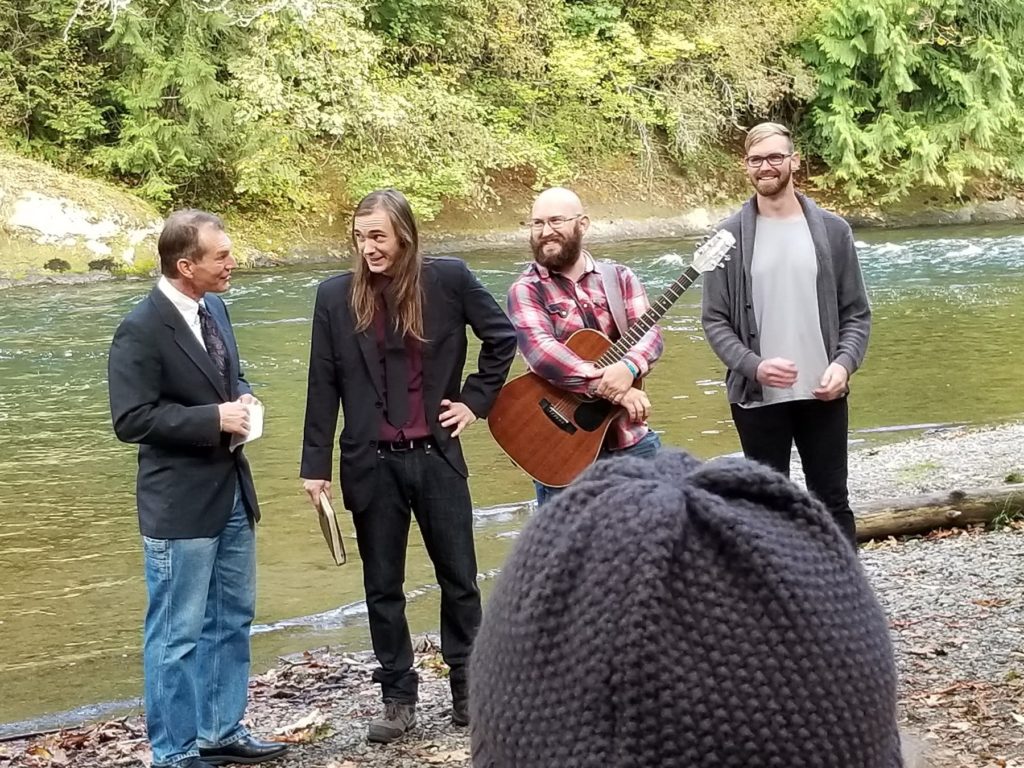 I'm not taking credit for Tad being Tad, or surviving his twenties, or becoming a man who has earned Pam's trust and love. I could not have envisioned this, fifteen years ago when I got that phone call. But God is able to do immeasurably more than all we can ask or imagine.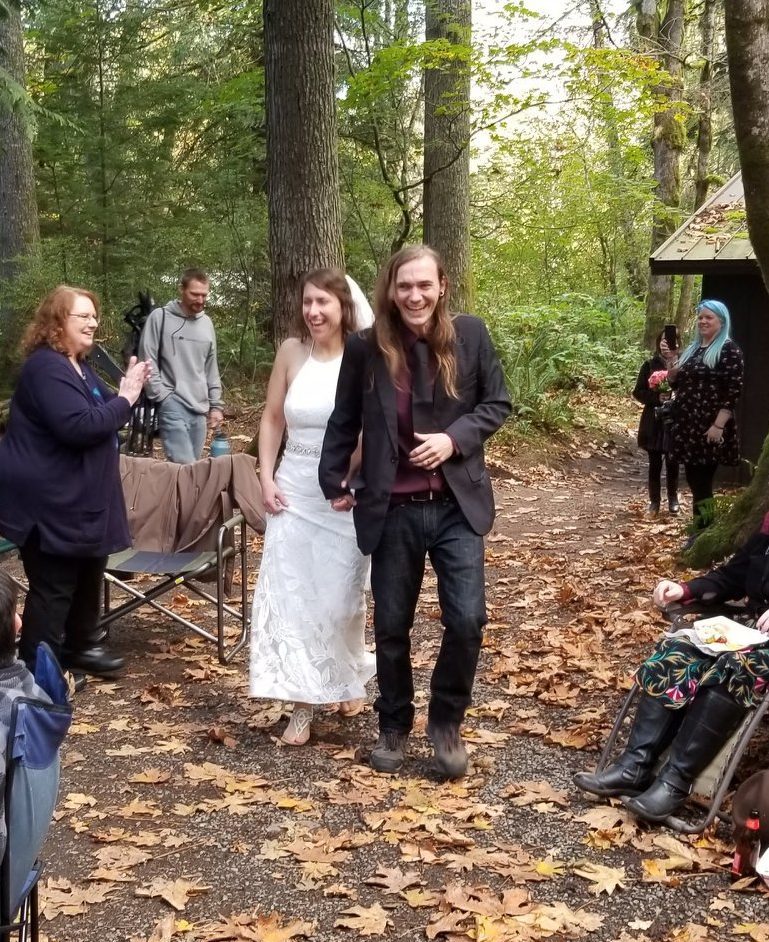 That's what happened Saturday.
*If you're the only one who is "normal," doesn't that make you…