Yesterday from 5 to 5:45 I walked home from school.  I've done this walk approximately countless times.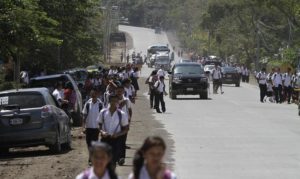 Today, in the late morning, a good friend was robbed by people with machetes.  She was mugged next to a coffee shop that's on my route home.  In daylight.  Kim was at another coffee shop about 200 yards away.  
A convenience store (super-mini) on the route got held up at gunpoint a few nights before.  We stop in there all the time.
Protests in Nicaragua continue with no end in sight and no visible evidence of progress.  We talk every day about how this might come out, trying to imagine scenarios in which the situation improves.  But none of us can see a realistic way back, while forward is murky and uncertain.  Nearly every day, protesters die at the hands of government enforcers wearing one uniform or another.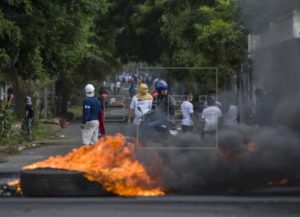 I've spent seven years trying to convince people in the States that "No, Nicaragua is not at war, it's not violent, that ended thirty years ago.  Nicaragua has the lowest violent crime in Central America."  Now, everything that I've been convincing them isn't happening…is.  
The protestors are demanding that the President and Vice-President leave.  They are arguing for immediate new elections, rather than waiting for the next election cycle in 2021.  
I don't know who would run if the government agreed to excelerated elections.  No obvious leader has emerged among the protesting groups.  
Police are no longer enforcing traffic laws.  They aren't present to keep order.  Conditions are becoming increasingly uncertain and dangerous.  We're all trying to figure out how dangerous, what precautions to take, and whether this is our new normal.   
The bigger problem is that businesses are flatlining.  People are afraid, they're staying home, and they're not spending money on anything but necessities.  The more this happens, the more it happens.  It's a spiral.  Our neighbor has no one coming to get a motorcycle repaired. Therefore, they have no money coming in.  They can't go out and buy anything.  
Poverty has so many dimensions you might never consider.  We went to the zoo last Sunday, our biggest outing in weeks.  We heard that the zoo is not getting enough visitors to be able to feed the animals.  There are so many aspects to this crisis, so many dominoes falling, hitting other dominoes, which then hit more.
Most people here live in poverty.  They don't have margin for weeks or months of unemployment, de facto layoffs, reduced hours, business slowing to a halt.  But here we are and people are adapting, figuring out how to keep going.  We're asking when it will end but so far it's just getting worse.  Tourists aren't visiting.  Of course they're not.  Short-term mission teams are canceling. Of course they are.  Health clinics rely on the funds and people power that these teams bring so that they can keep providing medical care in impoverished communities.  Now they're scrambling to continue their work.  
For years we've seen people living at subsistence level, maintaining a precarious stasis, while parts of the infrastructure slowly improve.  Roads.  New businesses.  
But now it's this downward spiral.  The pictures we keep seeing of nearly empty airplanes mean more than lost business for airlines.  Those are breaks in the chain that so many people here depend on, including many who don't realize they do.  The US surfer or backpacker or bird watcher isn't on that plane, so the restaurants where they eat and the hotels where they stay don't have their business, so the restaurant and hotel employees are losing work hours and they can't even pay for the gas to put in their only family vehicles, their motorcycles, much less bring them to my neighbor for repairs.  
That's just one link.  I heard the biggest car dealer in the country is down 70%.  Not at seventy percent, down seventy percent.  Surviving at thirty percent right now.  Imagine how that ripples through the economy.
I don't know if things will get better before they get a lot worse.  The business owners may apply pressure for change.  Maybe. The general population suffering is not the same thing as the wealthy suffering.  But the ninety percent living in poverty have less voice than the ten percent who own most of the businesses and property in the country.  
So we wait.  And we pray.  I don't mean the types of "thoughts and prayers" which actually mean that people merely feel badly and are commiserating.  I mean we pray as a wailing cry to the living God who sees this suffering and increasing misery.  I mean we beseech God to act, to bring peace and justice–and soon.  
"And will not God grant justice to his chosen ones who cry to him day and night? Will he delay long in helping them? I tell you, he will quickly grant justice to them. And yet, when the Son of Man comes, will he find faith on earth?"        Luke 18:7-8
---
Meanwhile, meanwhile, we're moving back to the States.  Yesterday, I gave ten boxes of books to our school library.  Boxes.  We sold our dining table.  Someone bought our favorite plant, a beautiful white flowering tree.  Our dog Zoe went to the farm–no, an actual farm, a finca where someone was happy to adopt her.  Those are holes in my life.  Those are pieces of what has been my life that aren't here anymore.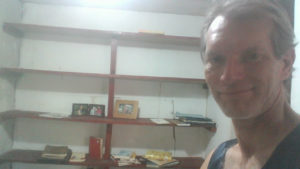 It's just a move. People move all the time. Part of the mission experience is the revolving door of folks who come here for so many different reasons…and then leave.  We've seen it, a lot.  We knew eventually it would be us, unless we felt clear God was calling us to stay forever…and "eventually" arrived.
But I'm losing pieces of my life, of the life that we've built here, and I'm grieving that loss.  Last night we said goodbye to Bella, Tino, and Tadi Ndoro, who have been our neighbors and ministry partners in the barrio these past three years.  I'm having my last times with young adults who have shared their lives with me and whom I have grown to love.  
This was going to be hard and painul no matter what, and I'm an emotionally-oriented person, so I don't have the option of just "doing what needs to be done."  Bibliophiles, you'll get this: giving ten boxes of books felt like cutting out a piece of myself.*  
But the "normal" leave-taking involves a few of the adventures you wanted to do one last time or left until last. Instead, we're making certain we're home by dark and carefully checking the latest before we go anywhere.  I was walking home yesterday because the Tuesday evening basketball game was cancelled, so I was trying  (and failing) to have a Tuesday afternoon game. 
Everyone feels like they are losing pieces of their lives right now, not just we who are moving.  So many have lost family members.  So many have been put in jail without explanation. The front page of today's paper tells of the death count, t
he tranques (road blockades), and the tumbling economy. Friends who were here have gone; friends who planned to come back are not.  The city feels different, more unpredictable.  People are cautious and tense.  The guy carrying my groceries hugged me yesterday. The strangest part is how normal it is most of the time, even as we pray and hold our breath.    
As an irony, our barrio feels much safer than the city in general.  When we're coming home, we turn the corner onto our street and breathe a sigh of relief.  I can feel the tension seep out of me, back here with our borrachos, where we can hear the church across the street most every night, where people are still sitting out on their chairs in front of their homes and talking after dark.  
So home is the closest that we have to normal right now, though the possessions that made it homey are slowly trickling out the door.  Pieces of our lives shifting, changing, disappearing. 
Meanwhile, Annalise's graduation went from an evening ceremony with a banquet across town to a morning ceremony with a banquet at the school.  Not worth the risk to try to cross the city, they decided.  So we'll celebrate and make the best of it.  
And pray for God's  redemption for all that we've lost.  
*Am I too attached to my books?  Of course I am!  Who said otherwise?