Commencement speech at NCA, Annalise's graduating class of 2018.  You can also see and hear it by clicking here and going to -51:43 for however long Facebook keeps it posted. 
[Last time, student self-rating, one through ten.]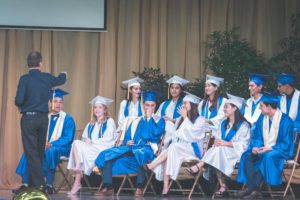 Thanks for having me speak, Guys. This is an honor. Of course, no one listens to a commencement address, since you're sitting there thinking, "OH. MY. GOSH! I'm finally graduating!" So thanks for the honor of making me the last person in high school you don't listen to.
C.S. Lewis writes, "The great thing, if one can, is to stop regarding all the unpleasant things as interruptions of one's 'own,' or 'real' life. The truth is of course that what one calls the interruptions are precisely one's real life—the life God is sending one day by day; what one calls one's 'real life' is a phantom of one's own imagination. This at least is what I see at moments of insight: but it's hard to remember it all the time."
Now I know it's difficult, but try to imagine what it would be like if your plans didn't work out exactly the way you wanted them to. I don't know, I'm just—let's think of some hypothetical situation in which you had worked really hard on something and it didn't turn out at all the way you wanted.
Imagine if you were seniors in high school and had a month left of school, just an ordinary day, classes going by slowly, and then suddenly it turned out that was the last day you'd ever have classes together. Imagine if you were trying to teach a Bible class and all you needed was to be able to be in a room together—and then you can't be.
It's not that hard to imagine, is it? Everything is interrupted right now. In fact, we're having trouble now imagining a life in which everything goes the way we plan it.
So this is what I want to tell you, and it's one simple thing that I honestly hope you remember for the rest of your lives: Life doesn't go as planned. Plans are a fantasy. Lewis calls it " a phantom of one's own imagination."
Now that I've told you the simple thing, here is the paradox: Of course we make plans. You had a whole Senior Presentation Night—I mean, morning—so you could share your plans for your future. You're going to college. You're going to work. You're going to meet that beautiful person and marry them, or marry the beautiful person you've already met, and have beautiful kids. I mean, Mario has a girlfriend.  (I got Mario's permission to say that.)

That's the plan.
But life doesn't go as planned. Life is the constant back and forth, the tug of war, the push and pull, between what we want try to make happen and what actually happens. Life is the dialectic between our plans and our lives.
"Dialectic," in case you happened not to be listening to Miss Pasker that day, either, is a reasoned argument between two sides holding opposing views. Like when Santi and Juan P didn't agree and argued. Every class.
I could stand up here and tell you that everything will come out perfectly for you if you just work hard enough. Or pray hard enough.
But you know my testimony. That isn't true. Imagining that if we just pray, God will make all our dreams come true is fantasy.
Jesus gives us a very clear picture of what will happen. In Luke 6, Jesus says, 46 "Why do you call me 'Lord, Lord,' and do not do what I tell you? 47 I will show you what someone is like who comes to me, hears my words, and acts on them.48 That one is like a man building a house, who dug deeply and laid the foundation on rock; when a flood arose, the river burst against that house but could not shake it, because it had been well built. 49 But the one who hears and does not act is like a man who built a house on the ground without a foundation. When the river burst against it, immediately it fell, and great was the ruin of that house."
The most important word, for us, is "When." When the flood arose. In every life, the flood will arise. How can we live in Nicaragua right now and not know that? Did any of us plan for this. I'm being completely serious—did any of foresee what the last month of your senior year would be like? What kind of storm we'd face?
Some of you have already faced storms and that's why it's hard for you to trust God. Some of you have had smooth sailing, no big floods, no nasty storms, and you don't really want to give up running your life because you like how it's going.
If we know the storm is coming, then we prepare for it. Jesus says that acting on his words is building a house that has a foundation, that can stand through a flood. Because the flood will come. We know that. It's here now.
Jesus also says that not acting on his words is like building a house with no foundation. It might look nice. It might look beautiful. But when the flood comes, that house doesn't have anything to stand on, anything to hold it strong in place. The flood just carries it away. "When the river burst against it, immediately it fell, and great was the ruin of that house."
I know some of you don't believe this, and I respect that, because I respect that you have to make your own decisions about your lives. Part of what we're doing today, handing you your diplomas, having you flip those tassels from one side to the other—don't mess that up, Gabe—is symbolism that you have made it through this preparing time in your lives and you're ready to make your own choices for your lives. Or you're not ready, but it's time, anyway.
I have only this to offer you, and I sincerely pray you remember it: God loves you. God loves you if you are following Jesus and doing your best to live by what He says. God loves you if you aren't following Jesus and doing your best to live by only what you say. God loves you.
That's the one thing I can promise you will be constant in your life. That's the only plan I can tell you for certain will work out.
When you set out in your little kayak, you expect to paddle out and paddle back. That's your plan. That's how it's supposed to work.
But it doesn't always, does it?
Life doesn't go as planned.
I trust you all remember what X is?
This is your calling. This is where your passion, the thing you love, the thing you were made for that grabs your heart, intersects with the world's needs. Where you are able to do the thing you love and use that to help others.
But we don't try to say that's going to happen on these exact dates, doing this exact job, with these exact people. Because life doesn't go as planned. If we get locked into "It has to happen in a certain way, exactly like this," then we get frustrated and discouraged. We can get cynical.
As Lewis said, "the interruptions are precisely one's real life, the life God is sending one day by day."
Live that life. Don't let the interruptions knock you off track from your calling. They are your calling. Your X is where your passions meet the world's needs IN REAL LIFE. If you have this perfect picture of how you're going to carry out your X but then it never works out that way so you never really do anything, you are missing your real life.
Some of those interruptions will turn out to be your husbands and wives. You're going to get knocked off your plan, you're going to go paddling out into the Laguna, and in the midst of being off course and stuck, you're going to run into someone just as off course and stuck as you are. That's your real life. Live it. Build on rock and live it. We can get angry that we don't get to have the graduation party you all planned, and that's fine, that's legit, but don't stay angry, don't get so stuck in your anger that you miss the party we're going to have right here. Because this is the party you get, with your classmates, one last time, and then everyone goes their way. This is the interruption. This is the life God has sent us and we can embrace it or we can reject it, but we can't send it back for a better one or hold out for the one we planned on.
Last thing. Because life doesn't go as planned, the things you need most are God's love and true friends. Most of you already know that. Some of you know you made it through because you have true friends. That's a good thing. Find those friends. Keep those friends. Friends who will love you unconditionally, who will stick by you, who won't bail on you when life gets ugly. God shows us his love through one another, through our friendships. When you are praying and asking God to reveal himself and you have real friends, God has revealed himself to you.
Let's get you diplomas.