Watching the hospital bed roll away is the worst moment.
I knew Annalise would be okay. Mostly I knew that.
We have the incredible privilege of expert medical care: a world-class surgeon, an anesthesiologist who patiently answered all our questions and made some changes based on Annalise's unique condition. We have nurses that make the difference between bearable and unbearable, Jesus bless them. This was a serious surgery.
That's one side of it.
The other is, it's really freaking unfair* that our 22-year-old, who never had an injury, accident, or any obvious cause for this shoulder deterioration, had to undergo this massive, invasive surgery. The surgeon removed a piece of collarbone and affixed it to the shouder socket. This was a serious surgery.
I'm just stating this flat-out. A kid who survived literal years of acute medical difficulties–beginning with the first three months of life hospitalized and, only five months after we finally got Annalise home, another month hospitalized after Annalise almost bled to death and doctors told us this child would die–maybe didn't also need to have this unexplained condition. Annalise's shoulder dislocated. Yes, I know, many people suffer shoulder dislocations. Annalise suffered ten dislocations in two months. More than once a week. The orthopedist told us he'd never heard of this happening so many times in such a short span. Ever, to anyone. Not once did it occur because Annalise got hit, landed on it, fell iceskating, or did anything else notable.
For those of you keeping score, that's ten trips to the Emergency Room in October and November.
We're profoundly grateful Annalise can get this level of medical intervention. Most people in the world could not.
and
Our young adult, after going through so much, trying to move forward in life, could use a serious break rather than having to undergo a serious surgery for a broken (deteriorated) shoulder.
That's a tension to live with, not resolve.
God and I have had talks.
–
I have not shared about this publicly because I wanted to protect Annalise's privacy. But a couple days ago, Annalise said, "Dad, if you want to write a blog post about this or share it on FB or whatever, you can."
I do. For two reasons.
First, I want to testify to my young adult's courage. Our son Rowan, who has been an EMT and now works in the lab at the hospital, told us that, in an emergency, it's a little difficult to be told calmly by someone, "My pain is a 10." See, if you can tell me that in a normal tone and volume, it's not a ten. I was with Annalise for seven of the ten trips to the ER–Kim went for the other three*–and repeatedly saw what pain reaching a high 9 or a ten looks like. And sounds like.
Now imagine that you're hitting that level of pain once or twice a week for a couple months and it gets triggered by seemingly nothing. One of the dislocations happened with Annalise lying in bed. Literally doing nothing.
Annalise is under five feet and might not strike you as an imposing figure. But Annalise is The Storm, the Gladiator Hummingbird. Annalise is tough. I'm not kidding.
Several times when a dislocation happened, Annalise would be able to joke about it while waiting for the ambulance. We had a running joke with the ER nurses that Annalise deserved a freaking punch card. Tenth visit free! Tenth visit gets a prize! We were already joking about that when we had five visits. No one wanted to believe we would actually hit ten. But we did.
Annalise thanked the medical personnel profusely, repeatedly, and apologized for having said anything "mean." I'm talking each time we went to the ER. There was good reason several nurses always came over to check on us, though they weren't the ones providing care. Annalise won them over, while in howling pain.
Frequently, friends would ask me, the day after another dislocation/ER trip, "How is Annalise doing today?" And I'd look out to the living room and Annalise would be smiling or just keeping on keeping on.
Living with the constant threat of level ten pain is. not. fun. Our young adult is brave.
That's one.
Second, people say "seeing your kid in pain is the worst."
People are right.
I'm not about to get maudlin or self-pitying on you here. It sucked and we survived it; Annalise did the real suffering and is alive and I'm grateful. All of these are true.
But I was watching that hospital bed wheel away and then the nurse, who was truly wonderful to Annalise, said, "it's that way out to the waiting room"–hint, hint–and I know everything is going to be fine, yes, I know that, but what if…
What if Annalise has a reaction to the anaesthetic? What if it isn't okay? Right before they went in for surgery, I said exactly the things I would want to say if…
Not getting maudlin. I swear.
When I stood next to the bed in the ER and Annalise started to writhe, and then cry, and then scream, I urged nurses and doctors to hurry. They don't always like when you do that, but it's all I could do and maybe a few times it helped a little. After all, they have so many things they have to do at once and they can't constantly monitor how Annalise's pain is spiking.
I stayed calm. I held Annalise's hand, kept eye contact, tried to distract when asked, or went looking for medical personnel when asked. I noticed that I went into this centered, much-calmer-than-Mike's-normal mode. I also noticed that, the next day, I was exhausted and short-fused, and had a terrible time concentrating on my writing. Each next day.
I'm not complainging. I hope you get that. I wasn't at a nine or ten. I'm merely setting the scene.
I prayed–standing there, feeling useless and impotent, feeling like I might go mad as I watched Anners' eyes cloud over–again–that God would let me take some or all of the pain.
I don't think that's heroic. I think that's any parent's prayer with their child suffering. I might go so far as to say that, for someone with no response like this for their child, part of their parenting instinct is broken.
God didn't answer that prayer, at least not in any way I could discern.
So I watched the bed holding that tiny, mighty storm of a human being rolling away and remembered, from all the other surgeries, that waiting is also the worst.
–
Surgery was Monday and this is Friday. It's been a rough week. Pain management is challenging. Annalise can't sleep much, which makes pain worse and healing slower. But unlike all those trips to the ER, pain in recovery feels like it has a purpose. Our 22-year-old now has a pin in the left shoulder to keep a piece of collarbone grafting to that shoulder socket. Yep, we know how to have a good time around here. But we're hopeful that this will resolve the problem. I don't know exactly how God answers prayer, nor do I have to, but we welcome any and all prayers for Annalise's healing.
Yesterday, driving home, I turned onto the major street that takes us to our little cul-de-sac. Way up at the top, near our turn, there were ambulance lights swirling. I couldn't breathe well until I reached our street and saw our driveway. No ambulance.
Maybe pray for Mom and Dad's healing, too.
I have never written a blog post on "How to Parent," because frankly, I feel underqualified. I'm not being pretend-humble here, and you could ask my kids (but please don't).
But I thank God I am a parent. And that Annalise is okay and getting better.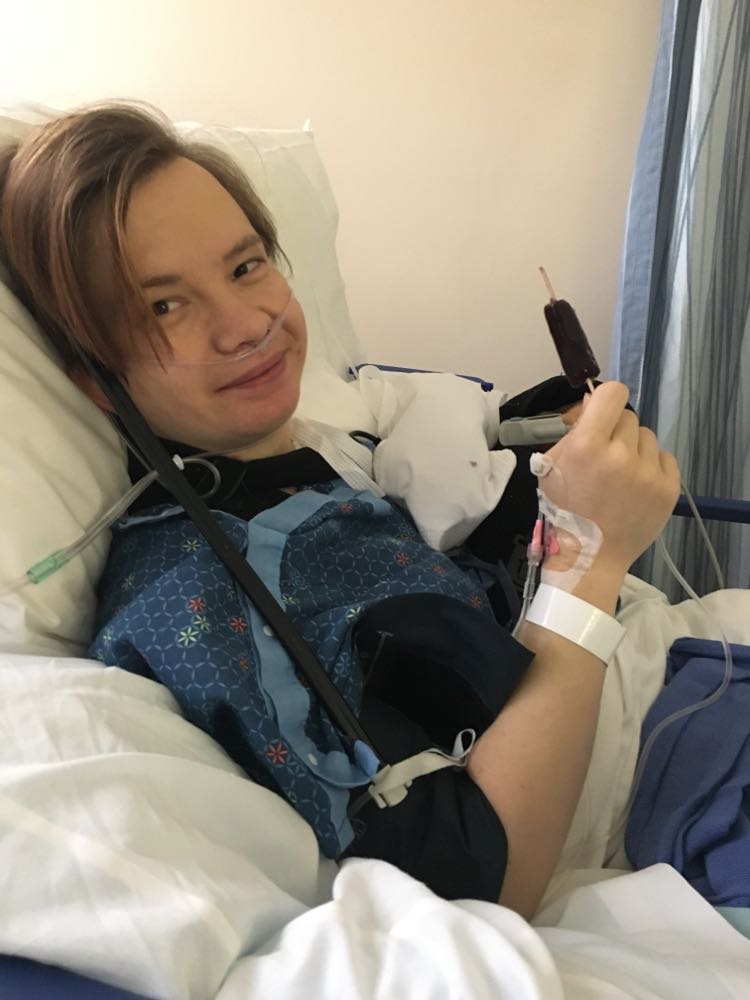 –
*I'm not getting into "fair" or questions of justice regarding resources in this post. I've wrestled with that before and I'm sure I will again.