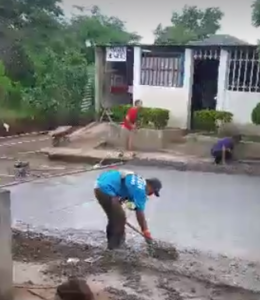 Nicaragua Diary, Day 11
Yesterday was a beautiful day.  I was absolutely exhausted, but in the right way. 
We played ultimate in the morning which, if you don't know, is a passion of mine no matter how old and slow I'm (refusing to admit that I'm) getting.
I wrote yesterdays diary post, Our Road, before the game because it excited me too much to wait.  Not many things come before my Saturday ultimate game, but that did.  We came home afterward to our lovely, smooth new road, and the next section being poured and smoothed.
The work crew, as Kim commented, had a youthfulness to them, both in their playfulness and energy, and in their approach to their work.  
Our neigbhor, Mileydi, had arranged with her church to provide lunch for them.  Several women in the church spent the morning making a huge pot of soup.  We were able to help by covering the cost for the ingredients.  And finding about 20 bowls–or bowl-like containers in our kitchen. After I'd showered and worked on my sermon (for today), I walked across the street to see how they were doing.
They were so happy.  I'm not sure what your experience has been in regard to whether or not there is, in fact, a free lunch.  I'm not sure how often these young men had been fed a free lunch.  But they were laughing and joking and seemed simply delighted.  They gave me huge smiles and thumbs up when I came in, though I had done none of the actual preparation.  I used the opportunity to tell them how much we appreciated their work and how much they have improved our neighborhood.
But as happy as the road crew was, Mileydi was happier.  She kept praising God and we agreed, repeatedly, what a wonderful opportunity this was to serve these guys.  
I think the best part, for me, was the spirit of gratitude all the way around.  No one was seen as above, handing down.  Yesterday was sweltering–35C and probably "feels like" 115F–and the road crews' "half day" went until 3PM.  I told them that was not half.  They had worked hard all week in the heat.  Later, Kim brought them coffee and water. Again, they didn't take it for granted or act entitled to what we shared with them.  
Who knows how those small acts of kindness impacted them?  I strongly believe in the seeds God plants.  We may not see them grow, but we know so little of the impact we have on others.  But God is working in their lives.  That small thing may have been exactly what one of them needed to see.  They left knowing that a church had cared about them and served them in return, even though their service is paid (and well paid, relative to Nicaragua).  
The rest of the afternoon, we helped some gringo friends move from their house to a house at the end of their street.  I think that might have been hotter than ultimate in the morning.  Helping out feels good, even when it includes feeling woozy from the heat.  
Finally, last night Kim and I went with our friend Kelly to see Ferris Bueller's Day Off.  Occasionally, one of the theaters here will show a vintage movie.  Last year, Kim, Kelly and Lydia saw Grease.  By then it had been a full day for me–physical activity, brain and spiritual focus, social interaction with people I barely knew, more physical activity–but somehow Eighties nostalgia revived me.  
To complete the story, I then had my first bout with insomnia since I've been back in Nicaragua, not my favorite timing, but God gave me strength and was powerfully present for my sermon this morning.  
I don't have many days here that go as well as that.  I was on a high for much of the day, alternating with "I might pass out."  But as I look back on it, the workers smiling faces stand out, grinning at me, gesturing, saying "Gracias."  
For soup.