Friday, a woman's house burned down.
I got a ride home from coaching basketball practice to see a huge pile of black waste material being loaded into a dump truck by a Cat.  We don't see big machinery on our street very often.
"Is that trash?" one of my players asked.
"Or maybe sewage?" I suggested.  We live across from an asentimiento, a squatter village.  Either is possible.
We watched for another minute before I got out.  My wife and young son were there with other neighbors, watching, too.
I came up smiling at them, but no one returned my smile.  Then Kim told me what happened.  Everyone in the asentimiento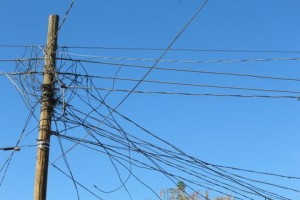 hooks into the power lines and runs electricity, rigged up however they can, to their homes.  The rigged wire had begun to spark and burned her house to the ground.  The destroyed house was across the street from us and two houses back from our close friends.  I walked down to see the site.  The only things left were the brick fire cookstove and some zinc roofing.
 All her other possessions were now that pile of rubble, ash, and cinder quickly getting scooped up to be hauled to the Managua city dump. Two tiny barefoot neighbor girls were darting in and out of the blackened pile, collecting charred bits of wood for their cooking fires.