"There's always another story.  There's more than meets the eye."

–W.H. Auden
Three stories on the same theme, one from my hilarious, candid and slightly profane friend, Shari.
After our son Isaac died, Kim and I took some time away.  Our eldest daughter was two.  Some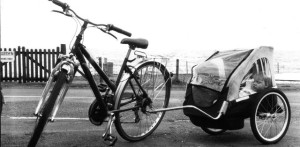 folks on the church board where I was pastor had generously let us use their vacation home to have some space.  Kim and I decided to go on a bike ride with Lydia in a bike trailer.
I was in bad shape at this point.  Nothing made sense to me and I was just trying to keep my head above water.  To give you an idea, when driving alone, I would tell people who cut me off, "You really don't want to do that to me.  I truly do not care if I ram you or not."  Yeah, I mean out loud.  They couldn't hear me, but I meant it.*  Exercise helped me not to despair, and we had a daughter to take care of.  We rode about an hour and came back to our car to load up the bikes.
A man approached us and started asking questions.  I have a history of attracting strangers who want to talk with me, so I wasn't surprised, but neither was I in the mood.  I went for short without being completely rude.
"Is that your little girl?"
"Uh-huh."
"How old is she?"
"Working on two."
"What's her name?"
Sigh.  Ready for this to be done.
Then the man said, "I was watching you before when you were getting ready to go.  You two are really good parents.  I saw how you treated her.  She's a lucky girl.  Are you Christians?" Continue reading