Today, we had our final end-of-the-year basketball party.  It marks the end of my time coaching in Nicaragua.  Bittersweet.  I gave out awards.  They gave me a signed basketball.  I prayed for my team.  They prayed for me.
I didn't coach all that long, but it quickly became a central part of my life.  
So here, then, are thirty things about my experience of coaching basketball.  Some I love, some I thought might kill me, and some…
I didn't really enjoy making my team run, but I liked seeing their courage when they were tired and pushed themselves a little more.  To their credit, I don't think we ever lost a game for lack of conditioning.  

Sometimes, you have to enforce discipline when you actually think your guys are hilarious.

It's stinking hard to see guys making the same mistakes over and over and never figure out how to help them change.

The worst feeling in coaching, to me, is when the refs are making not just bad but clearly biased, unfair calls and my guys know it but I can't do anything to fix it.  It's having to look injustice, minor as it is, in the face with no recourse.  Losing is never fun, but that's life.  We had some games in which we were just cheated, and what is the pep talk after that?

In our win at the Kaiser Tournament we overcame bad reffing, poor sportsmanship by our opponent, and our own emotional response.  I felt like a true coach then, not simply because we won–we've done a lot of that–but because we overcame it all, together, as a team.  I don't think I've ever felt prouder of a team.

I hated not being able to get all my players real playing time.  I never got comfortable with that, even when I believed I had to make that choice for us to have a chance to win.

Making free throws to earn being done with sprints was probably the best thing I ever came up with as a coach.

I always felt like we should have been better at free throws than we were.

The strangest thing for me about coaching was grasping that it didn't matter what I ate beorehand or if I was rested enough or any of the physical preparations I focus on when I'm going to play.  Because the coach doesn't play.  It took me my first three years of coaching to stop longing to put myself in.
I like being friends with my players.  I'm sure some coaches would say this is a bad way to do it.  But I wouldn't do it any other way and it's the only way I could do it, because I had to do it as me.

Coaching in Nicaragua, where one finds out the schedule a week–or a day–ahead, was hard on me, and I'm the most spontaneous, non-scheduled person I know who is still a contributing member of society.  

I'd rather have guys who will play hard than more talented players who won't.  Every time.  

A team in which every single player gives it his all every time he's in the game is a rare pleasure.  We had that this year.   

We also had the necessary corollary to that: when you need a break, let me freaking know! We had that this year, too, which is a big indicator of maturity.  

I enjoyed practice more than games.  In that, I was more into the process than the results.  

We won more than we lost, but of the games in which I felt proudest of our team, the majority were losses. Going after a team that has us badly outmatched and refusing to let down, give up, or even give an inch shows me much more about our guys hearts than our wins do.  

It was, nonetheless, also really satisfying to beat schools that had beaten us year after year.  

I can remember only once that we poured it on (rubbed it in) too much in a victory.  It was conscious and intentional, in response to how we had been treated, and I still feel a twinge of guilt about it.  I did the wrong thing.

I also have one game that I know I lost through my coaching. Every game you lose, you second-guess and try to figure out what you might have done better.  But one, early on as head coach, when we had a big lead, I flat-out blew.  Not singlehandedly, but for certain I could have prevented the loss with better decisions.  My guys know which one.  I don't still feel guilty…but I still wish I could do it over.  

It can be hard to find the balance between keeping the focus on God and being too preachy as a coach, at least for the guy who is a pastor first whether coaching or teaching or doing anything else.  Not sure how well I did at this, but Ioved how consistently during scrimmages our guys would say, "No, that one was out on me."  Character.

My dad taught me not to shout at nor disrespect referees.  He was very strong about this.  I may have raised my voice at the refs once or twice, but I always kept this in mind and tried to show respect.  That was pretty difficult sometimes.  

I never got a technical foul as coach.  I had the ideal that none of my players would ever get one, either, but then I discovered for what ridiculous things we could get them: patting a guy on the shoulder, trying to get a basket with a continuation play, asking a question calmly and respectfully, trying to take a charge…

and I stopped worrying as much about that.  

I'm a reasonably patient human being, all credit to God, but the thing at which I'd get most angry was when our players weren't taking practice seriously.  That didn't mean no jokes–we made jokes all the time–but screwing around and playing lazily or half-heartedly, ignoring instruction and then going in and having no idea what to do, that lit my fuse.  There's a balance in sports between having fun and working hard.  Most of the time, we got that balance. 

Trying hard and hustling is more important than shooting well because hard work is more a transferable skill than being coordinated.  

One of our rallying cries was, "Every loose ball is…ours!" You can't always make the ball go in the basket, but you can always dive on the floor to get to the ball first.  When our big guys–6'5″–started doing this and our previously slower guys started being first down on the fastbreak, I knew it was getting through.  

Our players don't yell at one another.  There are moments to correct teammates but never to tear down or criticize them.  That's counterproductive to winning and, more importantly, counterproductive to becoming a team.  

The flip side of this is mutual respect.  The guys don't have to be best friends.  They have to respect one another.  

I believe in encouragement.  Coaching is a great opportunity to encourage.  We all need to be built up.  I'm extremely vocal as a coach and always make a point of affirming the good plays I see, especially the ones that demonstrate effort.  At one of our scrimmages, I noticed that a young assistant coach was shouting out the positives he saw in a steady stream.  That warmed my heart.  

I started coaching because I didn't have a good experience playing high school basketball.  I wanted to make certain my players experienced something better.  I would say it's harder than I realized, and I understand much better now what happened to me.  But it's also very simple: This is a very vulnerable time in a young guy's life.  You earn your players' trust.  Then you keep earning it.  You do that by showing them they're more important than winning and losing, even when you're trying to win.  

Guys, I hope you know that.  I don't coach for wins.  I coach for you.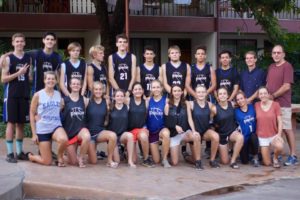 Thanks, Gentleman.  You've made my life a lot better, letting me be your coach.  
Oh, and one more, in case they're still reading:  you really do play better if you eat better.