I was going to write a travelogue for each day of our trip to Ireland.  But I realized that would have taken away too much time from actually living the trip.  I may still do that, depending on how well I remember all the details.  But for now, I'll just do another Thirty list.
*We waited our entire adult lives to see Ireland and it's been better than we imagined.
*Yes, the grass is as green and soft and spongy as it looks in photos.
*The night we arrived, we walked around deciding where to eat in a cold rain.  Ireland really knows how to do cold rain.
*Our first two full days here were both sunny all day long.  The locals told us that was the first they have seen the sun in a month.
*We hiked 13 miles to see the entire Cliffs of Moher range.  If we'd been forced to return home due to emergency after that, I'd have been satisfied with our trip to Ireland.
*Though Kim had to look away, I laid down flat on a very flat rock shelf and looked straight down from one of the cliffs…and it felt like floating and falling and flying all at once.  Euphoria.  (Then she got a picture of it.)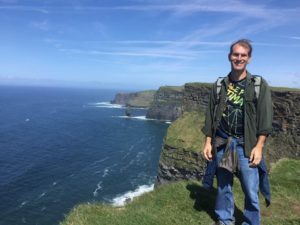 *They're not exaggerating about how much the Irish love their libations.
*We were impressed, even amazed, at how easy and timely Ireland's bus system is. Yesterday a friendly local explained how unreliable and tardy the buses always run.  Perspective is everything.
*Ireland has an abundance of street and road signs! You can always figure out where your going! (Except sometimes they get cute and write the street names in Gaelic when you've been given them in English.  Then you can't.)
*In two separate pubs in Dingle, we got to listen to brilliant live music–guitar, accordion, and harmony singer–and watch a man with "The Fastest Feet in the World" dance, traditional Irish style.
*Many Irish people really do speak Gaelic.  Virtually every sign, from road signs to castle descriptions, is in English and Gaelic.  Except the ones that are just in Gaelic.
*On perhaps a related theme, most everyone has recognized us immediately as tourists.  This in spite of my deep Irish roots.
*There are 4.8 million people in Ireland.  In the U.S., 34.1 million claim Irish ancestry.  Doing the math, there never would have been that many of us if we hadn't left.
*The food has been great!  Much better than we anticipated. The seafood rocks.  When you can see the ocean… Neither of us has ordered corn beef and cabbage, though Kim did try fish and chips.
*Rental car companies are still a pain in the ass, even when you're having the trip of your dreams.  Hard as I've tried not to be, it was my moment to be an ugly American.
*Driving on the left side of the road for the first time in my life required the same overriding my reactions and reflexes that…ready for this?…bungie jumping did.  "Yes, this is stupid and dangerous.  Do it anyway."
*Ireland vastly prefers roundabouts to stoplights, at least everywhere we've been outside of Dublin.
*I've mostly adjusted to driving on the left side, though roundabouts and complicated intersections still require reciting to myself, aloud, "Stay left.  Stay left."
*We are thrifty people (some would call us "cheap," but we spend our lives with people who can't afford what we can, so we're constantly aware of the value of the money we're spending).  For us, the cost of dining out has produced sticker shock.  We're trying to figure out if this is A)Europe, B)being in more touristy areas, or C)we don't actually grasp how much people pay when they go out to eat.
*Castles are cool! We spent several hours in Kilkenny Castle today.  Trying to grasp how much work, pre-cranes or -any-heavy-machinery, went into building such a massive structure.  We both love learning the history but it raises a million questions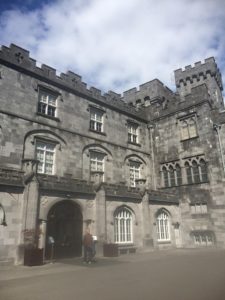 about all the people whose stories aren't told.  Winners and the rich write history, but they don't haul those stones to the top to build those towers.
*We spent time in The Black Abbey, St. Canice's church, and St. Mary's church. All date back to at least the 1200's originally and all of which have worship services today.  They felt like holy spaces.
*Besides staring straight down a several-hundred foot cliff, arguably my favorite part of this trip has been talking with friendly Irish folks.  We encountered two friendly farmers when we were…taking the scenic route…and they helped us re-encounter our intended route, beginning with the words, "This road isn't on that map."
*The two abovementioned farmers were the best, though difficult to understand (our ears are attuned to other accents).  Today's cafe owner who tried to get us a castle tour two hours after they'd close–oh, "they" turned out to be his parents–and then told us all about starting his cafe, his time living in NYC, and giving Halloween castle tours, ran a close second.
*Temps have run from mid-50's during the days to 40's in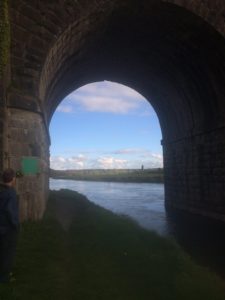 the nights. But we live in the tropics.  In light of that, we're surprised that we're still this tough (i.e. not even wimpier).  Tonight we took a several-mile walk by the beautiful Barrow River,* returning just as the sun started setting.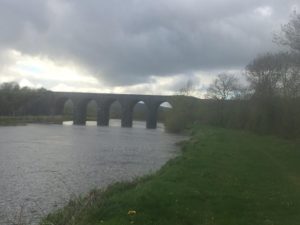 *We've met many immigrants with fascinating stories, e.g. the guy born in Turkey, raised in China, now running a coffee shop in Dublin.  All the immigrants we met like living in Ireland, though they don't all love the weather.  Our St. Patrick's cathedral tour guide commented on how pleasantly surprised and encouraged she is at how well the Irish have received their immigrants.
*We've successfully experienced natural beauty in Doolin, traditional culture in Dingle, and Irish history in Kilkenny, plus all those great convos and a lot of Ireland's countryside.  We  could have easily soaked up a week in any of these places, but for a short trip, we've done pretty well.
*We loved our days in Dublin. We were both sad to have to leave the gorgeous countryside behind–and then got swept away by the city: gardens, cathedrals, castles, palaces, museums, and more pubs!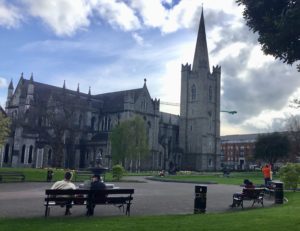 *Dublin highlights: Trinity Cathedral's architecture, Kim says "All the architecture!", the excavated section of Dublin Castle from the 8th Century and built by Vikings, Dublin Castle gardens, Jonathan Swift's memorial and epitaph (he wrote his own), seafood chowder, the top-rated independent bookstore in Dublin, finding out our host is in a Guns n' Roses tribute band–yep, seriously–exploring the city, and more pubs!
*Irish people are often joyful and boisterous, but Irish history is
rife with tragedy.  I wanted to learn more of both.  We saw an exhibition at Dublin Castle called "Art and the Great Hunger," with depictions of the Great Famine from the 1850's until now.  Haunting.
*Finally, our timing.  Nicaragua has been in turmoil while we've been gone.  We were here two days before it started.  It has calmed down again now, thank God.  Trying to keep track of what's happening–not easy even when there, much less from this distanace–pray, and find the balance between proper concern and continuing to enjoy our time when there is literally nothing else we can do from here except pray.